Country Specific Permits & Visas
Depending on the country you want to work in, the type of work you are looking for, your age, and what country you are from, your visa requirements to work in any given European country will change drastically.
To help reduce some of the confusion we have given a brief overview of the visa requirements for 5 countries and links to the appropriate government offices for visa information for another 10 countries.
In conjunction with this page, and really the whole section, you should also visit the work abroad section of JobMonkey for more information.
It has information pertaining to Europe and other areas of the world too.
Visas for Germany
In Germany, you will first need a residency permit if you are planning on working or going to school in the country.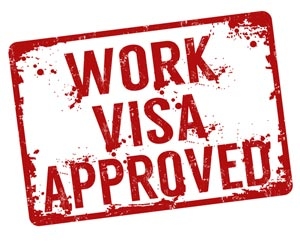 Both Americans and Canadians can apply for this visa once you are in Germany. So one of the best ways to try and find a job in Germany is to go there on a standard Schengen tourist visa valid for three months, and then start looking for work. The cost for the residence permit is 60 euro. Student visas, on the other hand, must be obtained prior to entering the country and you will need an endorsement letter from the school you are attending for the application.
Americans cannot get a working holiday visa in Germany. Canadians can work under the Youth Mobility Agreement for one year if they are between the ages of 18 and 35. This visa is free to apply for.
Au pairs from both the US and Canada do not need a visa but must be under the age of 24 for the US and under the age of 30 for Canadians. You need to obtain an employment permit, and must demonstrate a working knowledge of German.
Students can work for a maximum of three months and only during recess periods (e.g. holidays)
See: German Foreign Service Office
Visas for France
Generally if you want to work in France you will need a long stay visa, with specific types of long stay visas available for teachers, au pairs, and unskilled labor. The application fee for the long stay visa is $94. If you already have a job lined up you can also get an employer-sponsored long stay visa.
Once you have the long stay visa you can apply for a residence permit (carte de séjour) in the prefecture where you plan to live when you arrive in France. The residence permit can be valid for 6 months to a year, and can be renewed.
Americans cannot get a working holiday visa in France. Canadians must be between the ages of 18 and 30 to get a working holiday visa and must not have participated in the program previously.
Americans can work as an au pair under a separate au pair visa. Canadians can work as an au pair under their working holiday visa.
English teachers can apply for an assistant de langue long stay visa
As a student, you can work a maximum of 964 hours per year.
See: Visa information for US citizens for France
Visas for Italy
To work in Italy you need a long stay work visa.
The two main types are the self-employed work visa and the subordinate work visa where you are being sponsored by an employer.
The fee for obtaining a long stay visa is 75 euro. Just like France, you also need a residence permit (Permesso di Soggiornoas or Cartas di Soggiornoas) that is separate from your visa and can be obtained within two months once you are actually in Italy.
To obtain a student visa you need to be able to prove that you have supporting funds of 350 euros per month for each month of study. You also need to acquire the visa prior to entering Italy. There is no fee for applying for the student visa.
Americans and Canadians cannot obtain working holiday visas for Italy.
Au pairs need a long stay visa to work in Italy, which then gives you right to obtain a residence permit. The easiest way to do this is to enroll in a language school and obtain a certificate of enrollment from the school. The length of the visa is the length of the enrollment. You also need an employment agreement between you and the host family.
See: The Italian Immigration Website
Visas for Spain
To work in Spain you will need to have either a work permit and residence visa or a student visa. It is important to note that for Spain you cannot enter the country as a visitor and change your tourist visa to a residence visa or student visa within the country. The type of work permit you will need to work for a Spanish company is the Autorizacion de Residencia Temporal y Trabajo Por Cuenta Ajena ("Temporary Work and Residence Authorization") and it is $100 for the application fee. To apply for a student visa you need an acceptance letter from a Spanish institution and proof of sufficient funds for the duration of your studies.
Americans and Canadians cannot obtain working holiday visas for Italy.
Like in Italy, some sort of long stay visa is required to work as an au pair and the easiest to obtain is a student visa. You also need an employment contract with the family you will work for, be between 18 and 27, and can only work as an au pair for a maximum of two years.
Students can work part time with a student visa, but can only work full time for a maximum of three months when school is not in session. A contract with the employer is also required.
United Kingdom Visas
The immigration policies for the UK underwent a dramatic shift in 2008, moving to a points based tiered system. Under the regulations, the five visa tiers are:
Tier 1:
Tier 2:
For skilled workers who already have a job offer
Tier 3:
Unskilled labor to fill temporary labor market shortages
Tier 4:
Tier 5:
Youth, temporary workers, or Working Holiday agreements
The Tier 5 scheme is designed for those who want to vacation as well as work and both Americans and Canadians can apply for Working Holidays.
The Tier 5 scheme is also folding in other working holiday schemes such as BUNAC, au pairs, the Gap Year entrants concession, and the concession for research assistants to MPs. Note that for Tiers 2 through 4, you will need a sponsor for your visa application, either an employer or educational institution.
Americans cannot get working holiday Visas for the UK. Canadians can get working holiday visas for up to two years but must be between 17 and 30.
Americans can only work as an au pair with a blue card under the aegis of a work program like BUNAC. Canadians can work as an au pair under the working holiday visa.
As a student, you can work a maximum of 20 hours per week and you cannot be self-employed
See: The UK Immigration Website
Visa Information for Other countries