How To Find a Summer Job in Europe
If you want to spend your time between terms in Europe, there are a few different ways to make that a reality.
The types of jobs that will be available to you depend on the reason you are going and how you are finding employment. The jobs can range from tourism work all over Europe to internships abroad at companies to university exchange programs .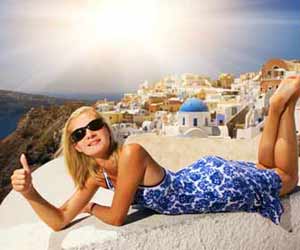 The first way to find a summer job in Europe is to check with the work placement program at your university. Most universities provide contact information and other resources to help you find placement with a suitable company over the summer. For certain programs, the work placement would even count as a class credit. If you are in a program like an MBA, or international studies, your department will be able to provide you with an excellent list of potential international companies to do a work or internship placement with. Even if you are not in those programs, business or international studies departments are great sources of information and potential contacts.
The other really big source of summer jobs abroad for North Americans is going to be leading tour groups or teen groups from North America on tours around Europe. You definitely need to enjoy working with young people for these jobs as well as having a lot of energy. For both this job and university placement programs, you need to plan ahead and start applying in February or March. These types of jobs have already hired long before spring term has ended.
There are other ways to find summer jobs, such as through BUNAC, which will help you with the visa application process, or perhaps teaching English at a summer school in countries like France. If you have worked for a large company in a previous work term, ask them if they have a European office where you could work for them for the upcoming summer term. For many companies, getting an inter-company transfer visa is trivial compared to you trying to get your own work visa for a particular country.
Odds are, as a student only working for the summer, you don't have a lot of credentials yet. Good grades and some previous experience are a definite asset, but what you are going to have the best chance with is simply selling your personality. Be outgoing, take initiative, and show a potential employer that you really want to work for them. Some companies may also not be interested in going through the red tape and difficulty to hire you for only four months. You may have better luck finding a job, particularly through university placement programs, if you are willing to do an eight month work term.
Remember that for a summer job working abroad, your goal is just as much about learning a new culture and language as it is about working. Take the time to explore and experience Europe because you know you are only going to be there for a short time. Working in Europe for the summer will be a great addition to your resume, provide some international experience, and will give you memories to last a lifetime. It may also provide you the contacts you need to work in Europe long term after you have finished school.