Cruise Ship Casinos
Cruise ships conjure images of faraway places, balmy beaches, intoxicating fragrances and smoldering love, illicit and otherwise. It is the stuff that inspires romance novels and movies, but it is also real and has been for some time. Casino gambling in the United States outside of Las Vegas or Atlantic City used to be limited to cruise ships. Traditionally, the casino could not open until the ship was three miles offshore in international waters. (This limit was set in the last century as the maximum distance that shore-based cannons could fire.) For those that lived far away from the traditional casinos, gambling became a favored shipboard activity until state-operated riverboat gambling casinos and those run by Native Americans dared to claim their version of the American dream.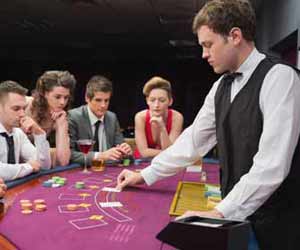 History of Cruise Ship Gaming
Riverboat casinos date back to the 19th century. Its demise was the result of the growth of the railroad and the outbreak of The Civil War, which abruptly curtailed any river traffic that was not part of the war effort. In the latter part of the last century, riverboats and their lure of quick riches made their way up the waters once again, as states sought new revenue sources that would be appealing to their voters. By limiting gambling to the riverboats, which remain as stationary barges that are permanently moored on a river, lake or ocean, the concept of time limitation was pleasing to gamblers. They would not lose as much as if the boats would sail up or down a river. Due to competition among the neighboring states, however, many cruises today do not limit the time "per gambling excursion."
Instead, they raised the gambling limits that were originally set when the riverboat gaming parlors were first established in the 1980s and 1990s.
— View Cruise Ship Job Postings —
Indian tribes are allowed to set up gambling casinos because of their sovereign nation status, which is a formal way of saying that they "were there first." The treaties signed between the various tribal nations and the United States in exchange for land, guaranteed them continued recognition and treatment as sovereigns.
In 1989, Iowa was the first state to legalize riverboat casinos. Illinois, Missouri, Indiana, Louisiana and Mississippi followed soon after. Jurisdiction determined the types of gaming permitted onboard, but most states allowed traditional casino games, such as blackjack, roulette and slots.
Some states also allow "cruises to nowhere" that take passengers out beyond the three-mile limit for either one night or weekend gambling cruises. As a result, cruise lines continue to build bigger and more elaborate onboard casinos and many passengers consider them an essential element of the cruise experience. The casino competes with other shipboard activities rate than being at the center of them, as would be the case on land. Most table games, until quite recently, maintained low betting limits which coordinated well with most of the low gaming skills of most of the cruise ship gamblers. But that is beginning to change as a rapidly growing base of players who also take cruises is emerging.
Several cruise lines have taken the initiative and are now marketing to these "high rollers." Carnival, Norwegian Cruise Lines (NCL), and Royal Caribbean International are currently the leaders in reaching out to these special players, preparing to rate them, buy them drinks (believe it or not, until recently this was unheard of in cruise ship casinos), open tables with higher minimums and higher limits, and even comp all or part of cruises for serious players.