Riverboat Casino Jobs
The reemergence of riverboat casinos was no accident. During the late 1980s and early 1990s government leaders from several states came to realize what Nevada citizens have known all along: gaming is a good tax revenue business.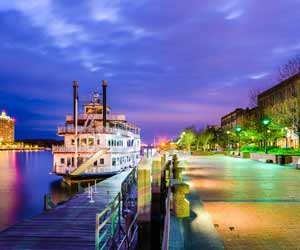 The passage of the Indian Gaming Regulatory Act also opened people's minds to the possibility of economic growth through gaming activities. Originally, riverboat gambling was the staple of large paddlewheelers and steamships cruising up and down the Mississippi River. At their height during the 1800s, such riverboats not only provided an elegant travel means, but plenty of entertainment by virtue of the shipboard gambling parlors. Fanciful ships plied the muddy waters as genteel passengers bet fortunes on games of chance.
But after years of abuse by con artists and card cheaters who were also on board (and the nation as a whole rejecting gambling a legal activity), riverboat travel declined. Also, as other modes of transportation, such as trains and automobiles, became more efficient, riverboats fell out of favor with the upper-crust crowd. By the early 1900s gambling on riverboats had completely stopped, not to begin again until almost ninety years later.
With gambling back on board, riverboat activity has attempted to churn up the financial waters of communities all across the country. Today, there are dozens of riverboats with casino operations in states throughout the U.S. Each employs several hundred people. It is estimated that this segment of the gaming industry alone generates more than a billion dollars in revenues.