Plus Size Modeling Jobs
The world is finally realizing that people are not all as slender as some models, and fashion houses, boutiques and designers are making clothes for the "real women." Of course with the so called "real sizes" you will need women who can model them and this is where plus size models come in. More and more designers are making larger ranges for their larger clients and plus size models serve the purpose of being the wearers of these outfits for range showings and ramp work as well as photographic shoots for promotional purposes.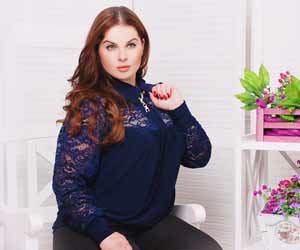 Plus size models are not just anyone, however. They are chosen specifically for a look and their size must be a healthy looking large size. She must appear to be happy and healthy and this also means that she should exercise regularly. A plus size model does not mean that you can join an agency very easily. You will have to work just as hard and prove that you are healthy, you exercise, eat fairly well and are naturally big boned or larger.
The general size that they look for in plus size modeling is if you can wear from size 12 to 16. You can start doing your research into agents, because not all of them offer plus size modeling yet. Contact the largest agents that you know of, and if they don't do plus size modeling, find a reputable agent who does. A great way to find out what agent to join is to keep your eye on the latest plus size models you see doing magazine covers, or store modeling. Ask them who they are with, or ask the store which agency they use for their shoots and promotions.
If you are getting involved in the ramp work side of things, you will still need to be of a certain height, usually about 5.7 feet or taller to do ramp modeling. It also depends on the agency and fashion house that is asking for models. In some cases they might want only shorter plus size models. All you can do is put yourself out there and get the best agent for your needs.
As a plus size girl or guy, modeling can allow you to speak up against some society trends and help people that want to conform to the normal images they see of models, even if their bodies are not made to be that thin. You have the chance to show others how they can love who they are and for what they have. To do this, and be a positive role model for people, it is imperative that you remain healthy, stay active, be passionate and give off a positive attitude in everything that you do.
You don't have to attend a modeling school to become a plus size model. Your agency will give you the training that you need and from here you can also branch out into ramp work, photographic work, range showing or all of them. On occasion plus size lingerie models are also needed and if you are very comfortable with your body, then you can do this as well like Tyra Banks promoted on her Full Figured Top Model show.
Men can also be plus size models and many clients find that a plus size male model can draw attention to their product and sell some products better than ordinary male models.