Cooking for Schools and Government Entities
There are plenty of other places you can work as a chef or a cook, and most of these places are in civil service where chefs, cooks, kitchen managers and staff, as well as directors of food are needed, such as schools and hospitals.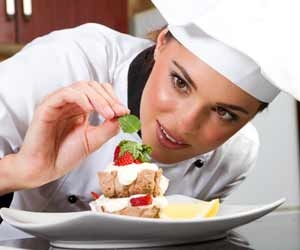 You can find excellent cooking jobs in these areas and gain valuable experience working in this very necessary food industry.
If this sector is of interest, then visit the federal government jobs content section of JobMonkey. Working for the government often provides tremendous job stability as well as excellent retirement and health benefit programs – unmatched by most private-sector employers.
School Chefs: Schools of all kinds need chefs working in their kitchens. Whether it is at a boarding school, where daily meals are needed, a university campus, or simple school cafeteria, school chefs are always needed to provide healthy, filling meals for the children. School chefs are in charge of the school kitchen and responsible for the making of each day's food as well as leading your kitchen staff. In some universities and top schools, you will have a kitchen manager or director of food services ensuring that the finances, food supply, ingredients, and other details are taken care of.
Cafeteria Chefs: Cafeteria chefs can be found in many different environments including schools, companies, shopping malls, camps, and even community centers. The cafeteria chefs will be responsible for leading a team of chefs and assistants to prepare and create meals and snacks to sell at the cafeteria. These meals may be of the takeaway variety, but can also be sit-down meals that are ordered. Experience as a short-order cook will be great to have if you want to work as one of the cafeteria chefs.
Prison Cooks and Cooks for Detention Centers: Working in a prison might not sound very glamorous, but you can get good chef jobs working as prison cooks, or as cooks for detention centers. You will be in charge of making the menu for each day and telling your kitchen how to make your recipes. The prison cooks and cooks for detention centers must be able to work with a strict budget and with a limited number of ingredients. This will be a challenge for many chefs and is a great opportunity to make great food with very little. Prison cooks and cooks for detention centers can make a decent salary and once you have worked in this area for a while, you will have plenty of great experience to get a job in a fast food, restaurant or hotel environment if you so choose.
Hospital Chef: Helping people comes in all forms, and if you are more skilled with a kitchen knife than a scalpel, then a job as a hospital chef might be just right for you. You can also be involved in food preparation for clinics and help sick people feel better with some healthy food. You have a very important job as a chef in a clinic or hospital as you will have to know about all different kinds of illnesses and diseases and what each patient is allowed to eat. Stroke patients, diabetics, cardiac patients and more, have very strict diets that they have to follow and you will need to adhere to this as a hospital chef and at the same time create interesting and tasty food to dispel those hospital food myths.
Kitchen Manager and Director of Food Services: Every civil service chef can become a director of food services or kitchen manager in any of the above sectors. This job requires not only a background and qualification in food, but also management, finances and good leadership skills.