Cook and Chef Working Conditions and Hours
Restaurants: Many restaurants are open from early in the morning until late at night and this means that the chefs and cooks, kitchen staff and management will need to be there even earlier and stay even later. In a restaurant, the chef's working conditions are pretty comfortable depending on the type of establishment. You have your station and a small team and everyone usually gets along. You will sometimes get to cook for the staff and owners, and are usually allowed to meet the customers and hear how great your food is. Chef jobs in restaurants will demand long working hours for cooks and chefs with some chefs working 7 days a week 12 to 14 hours a day. This does not leave much time for anything else. Many other chefs will work in shifts, but the head chef and sous chef are normally there from before open to after closing. Jobs in restaurants are normally great because you have a lovely environment in which to work with a family of people.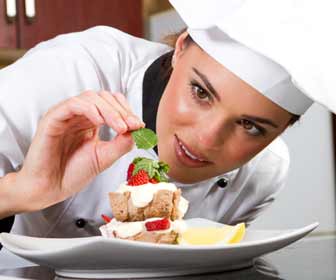 Cooking for Hotels: Hotels are sometimes huge and when that's the case will have a large team of kitchen staff and chefs who all want to impress and get ahead. You have far more competition in the hotel kitchen environment and there is a lot more pressure as well, because you usually have to create hundreds of identical meals for functions, as well as preparing and making the meals for the day. The chef working conditions in a hotel are good though and you are treated very well. The working hours for cooks and chefs are more balanced than at a restaurant as you will work predominantly in shifts. You can expect to work 40-45 hours per week in your chef jobs at a hotel with about 2 days off per week. The cook jobs at hotels offer shifts normally starting early in the morning until around 11 or 12 pm, and then the evening shift will be from lunch until after dinner.
Catering Company: The working hours for cooks and chefs at a catering company will vary depending on the type of catering company and the amount of functions there are. Typically over the holiday season, there will be a lot more work and you can expect to work every day from early in the morning until late at night, although most catering companies will offer chef jobs and cook jobs in shifts. The chef working conditions you can expect are highly pressured and conditions that are sometimes uncomfortable, but sometimes wonderful, as your job will take you to lots of wonderful places and venues.
Retail Food Service Jobs: For the retail industry, your chef jobs and cook jobs will offer a regular working schedule. You will work about 9 hours per day, usually from the time a store opens until just after closing. Your chef working conditions are also less stressful and more retail orientated, meaning that you have a set menu for the day and have to just get out as many items as you think you need as the shelves are emptied. You will also be doing more research and creating new items during times you are not busy.
Civil / Public Services: With the many public service sectors like hospitals, prisons, detention centers, retirement homes and clinics, you will have various chef working conditions and working hours. In a hospital environment where you have patients that require a certain diet and specific eating times starting early in the morning, your chef jobs and cook jobs will work in shifts according to the day. You will normally get one day on and one day off, and you will need to work any day of the week. In prisons and detention centers as well as retirement homes and other public centers, you can expect to work for about 12 hours a day making the meals for breakfast, lunch, and dinner. At some facilities, you will only need to work about 8-10 hours per day as the dinner meals are prepared earlier. The working conditions in hospitals or clinics are not particularly stressful, but you have to be very responsible so that any special requirements are met and all the health and hygiene rules are followed explicitly. In a prison, the working conditions can be quite dreary and you will need to have a strong demeanor for this kind of job. Cooks at schools will work only during school hours and have good working conditions. They are on occasion asked to help out with catering for after school functions.
Working as a Private Chef: In the private sector, the working hours for cooks and chefs will depend entirely on your clients' needs and will also depend on how many clients you work for. This will also dictate the working conditions and amount of stress you have. Private chef jobs and cook jobs means that you are basically working for yourself, and you will set the tone and conditions that you want.
Personal Chef: To be a personal chef you also have a wide scope when it comes to the conditions that you work under and usually, this will be the least stressful of all chef jobs or cook jobs because you are working just for one family. You have to prepare their meals and snack or whatever they want, every day, but you can do this in their private kitchen in your own time and without a huge team. The working hours for cooks and chefs in the personal sector can be rather long and seemingly endless, as you are basically on call 24 hours a day. You are there to make breakfasts, lunches, dinners, but also snacks and any events and parties that the family wants to host.
Some personal chefs will want to live in which means that you end up working more hours. You have to stand your ground and set your conditions from the get go, so that you are not taken advantage of and end up making midnight snacks if your employers can't sleep! You must set your own hours for the day and the conditions that you want to work under according to the pay you get. For example, conditions that you can set, are that you have all your knives and equipment at your disposal all the time and that the kitchen must always be cleaned the night before ready for each day. You can also insist that you get a certain day off per week, an hour lunch break for yourself, and certain other working conditions that are acceptable and agreed upon together with your employer.
TV Chef: Working in the film and TV industry is a totally different world and you will have a completely different working schedule and chef working conditions. You will be treated exceptionally well and have your own transport, team and manager to make sure that you get everything that you deserve for your TV show including a dressing room, clothing, the finest equipment and ingredients and anything else you insist upon, without going overboard of course. Your working hours on an average day shooting will be 12 hours, but you will not be cooking this entire time. Some shots will be preparation shots, some will be interviews, some will be cooking tip, or whatever else the show requires. You might also have times where you travel and sometimes shoots will just be 30 minutes to an hour if you are just doing an insert or TV promo. You also don't need to work every day and will sometimes get weeks off at a time.