Auditioning for Top Chef
Reality TV is not only about those with talents in the cultural field, but also in various professions, such as being a chef. Top Chef offers individuals who are already professional chefs to audition to be on the show competing in various challenges and cook-offs to win the cash prize of $100,000 to kick start their own restaurants, along with promotions and TV opportunities.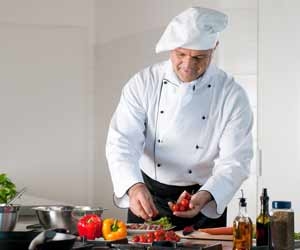 The Top Chef auditions take place in 7 or so different top restaurants across the country. If you cannot make it to the open auditions, the producers are also now accepting VHS only video auditions which you should send to Top Chef's producers. This should be a 3-5 minute presentation of your cooking ability, preferable filmed in a professional kitchen. You should showcase your best skills, plating techniques, ingredient choices and anything else that you feel makes you special. The more visual the better, because remember that the producers cannot taste your creations. Here's a online application form for 2011.
The producers will also need a copy of your resume, a recent photograph, and the 25 page application form, which you should send to:
Magical Elves
Top Chef – Cycle
P.O. Box 13005
Los Angeles, CA, 90013
They accept various formats of video which include VHS, VHS-C, mini-DV, and DVD. You should clearly label your tape and the case with your name and contact details, as well as the show that you are applying for. Here are some tips about sending in a video to apply for Top Chef:
Make sure the Auto-Focus Feature is off, as this can blur your image.
Always use proper lighting with the source aiming at you, and have your date and time stamp feature turned off.
Set up the camera about 4 feet away from you and your cooking station.
You must always be head and shoulders in the frame, with a few inches left above your head.
Do not have any music in your video.
Speak clearly and be relaxed and confident. Tell us your story and have fun.
At each venue there are about 100 hopeful chefs ready to pack their knives and head for the next round. The first casting stage, which can consist of a 6 hour or more wait, is a basic interview with the casting director who will ask numerous questions about your type of culinary style and skills, if you are trained at a culinary school and which one, what titles you have held before and at which establishments, as well as how o speak about food.
When completing the lengthy application form, you have to be able to explain your cooking styles, experiences and inspirations very well and be creative in how you would construct your dishes.
Some of the questions on the application include, "Who is your least favorite chef, and why?," "Describe your most embarrassing moment," and "Create a culinary interpretation of the lyric 'Eleven Pipers Piping' from the song 'Twelve Days of Christmas'." While these seem arbitrary, they will give the producers a sense of how you will do on the show, and if your chef skills and creativity can compete with some of the best in the country. If you have what it takes, you will get a call back and will then get to demonstrate your culinary skills, and take part in further interviews. There can be numerous sets of call backs to finalize the cast of chef-testants that will compete in the televised competition.
If you are chosen to be in the cast of 16 chef-testants, who compete in 2 challenges each week, you will have to sign various waivers stating that you will not talk to the press or anyone else about the filming of the show. You must also have a current passport as you will need to travel with the rest of the cast and crew to the filming locations.