Highway Flagger Jobs
No one appreciates road construction traffic. It's frustrating, time consuming, and an added hassle to the daily commute. Unfortunately, it is necessary to maintain safe and efficient roads. Standing in the dangerous position at the front line of every road construction project is a highway flagger.
Highway flaggers direct and control traffic at roadside construction sites. Their role is to slow traffic down to keep both drivers and construction crews safe. A flagger must work on both ends of the construction project for the duration of the project. It's an essential job for any road project, but it's incredibly dangerous.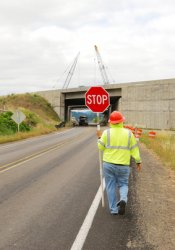 Potholes must be filled, road lines need to be repainted, lanes must be repaved, bridges need to be inspected, and highways need to be widened. Road projects occur year round, but the majority of the work is done in the summer. It's annoying, but better roads mean safer roads.
Highway flaggers use slow/stop paddles to help manage the flow of traffic. A roadside construction site is full of speed limit signs, flags, cones, signs, barrels, barriers, and even pilot cars. All road construction workers wear vests, pants, and hard hats with fluorescent orange and reflective strips to increase their visibility. Flaggers use two-way radios to speak with other flaggers and construction workers about directing traffic flow. It takes skill to manage traffic efficiently.
Everything at a roadwork zone is well marked, but many drivers are incapable of understanding the signs. Drivers regularly speed and drive dangerously close to highway workers as they do not want to be delayed. Drivers hate delays and can get frustrated when they have to slow down for road projects. Sometimes they take out their anger by blaring their horns and throwing cherry slushy cups – an unnecessary hassle for a flagger.
Highway flaggers stare danger in the face all day. They stand only feet away from moving traffic for long hours. All it takes is one distracted driver who is texting, using  a cell phone, or eating a cheeseburger to ruin a flagger's day or life. Death and disability are common for flaggers.
Flagger jobs are risky, but the danger increases at dusk and dark. They are the most at risk highway workers. In order to create the least amount of hassle, road construction must be completed quickly and often goes on 24 hours a day. Flaggers must stay focused on traffic and anticipate crazy drivers at all times. This can be difficult after 8 hours in the blazing summer sun or working a night shift staring into an endless onslaught of blinding headlights.
Every state has different rules, but most require flagger certification. One common certifying group is the American Traffic Safety Services Association, which offers a course that certifies flaggers for 3 years. The course covers traffic control zone areas, equipment and gear, proper staging locations, handling of traffic paddles, ways to deal with drivers, one and two lane road closures, and communication techniques.
The ATSSA also lists trained flaggers for hire, continuing education courses, flagging news, flagging instructor courses, and job postings.
Once certified, a flagger can find work with State Departments of Transportation or private construction firms. When hiring, employers should look for certification cards and do any necessary training and site orientations.
On average a flagger will make about $17,000 per year or $15 to $20 per hour, but some may make up to $50 per hour in certain situations.
Highway flaggers are essential to maintain the world's roads. They deal with hazards every minute of the day. This risky job always needs people who are willing to stand in front of traffic with a sign.
Quick Facts About Highway Flagger Work
Job Title: Traffic or Highway Flagger
Office: Roadway Construction Zones
Description: Direct and control traffic flow in roadside construction zones
Certifications/Education: Certification and training in flagging required
Necessary Skills: Alert, Attentive, Skilled with flag, Courage
Potential Employers: Department of Transportation, Private Construction Companies
Pay: $15 to $20 per hour
Helpful Highway Flagger Employment Links:
Search Highway Flagger and Other Flagger Jobs on JobMonkey
Flagger Training By State
Roadway Work Zone Safety
American Traffic Safety Services Association
Highway Flagger Classes