Airline Passenger Service Agent Jobs
Whenever the public needs information about flights, making a reservation, or checking in before a flight, they will be dealing with the airline passenger service agent behind the counter.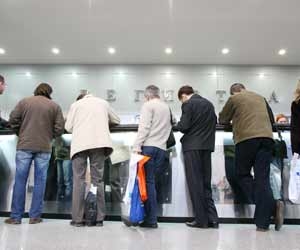 Airline passenger service agents are also known as customer service agents or check-in assistants.
The Bureau of Labor Statistics expects the commercial and airline industry to greatly expand in the next few years. This means that there will be an increase in the number of airline passenger service agent jobs opening due to the larger number of passengers. There are also opportunities for promotion for the right people.
Job Responsibilities
There are several tasks that passenger service agents do. This includes checking passengers in, giving refunds, providing them with seat numbers, labeling luggage, giving out boarding passes, and leading them to their aircraft boarding site. They also handle various passenger questions dealing with flight schedules, delayed flights, and handle other needs that passengers may have – such as wheelchairs, children, elderly, and others. Additional tasks may also be assigned.
Did You Know? Atlanta's Hartsfield-Jackson airport is the busiest in the world, just ahead of Beijing.
Checking tickets and ensuring that people are getting on the right flight is essential. Passenger service agents may also need to be able to assist government agencies with their needs. In some cases, the tasks of a passenger service agent and that of ramp operator are combined. When they are, it means that a whole new set of tasks are added. This may include tasks such as loading and unloading baggage, deicing the aircraft, cleaning the aircraft, directing the movement of aircraft, calculating the weight and balance of the aircraft, and working outside in all kinds of weather conditions.
Job Requirements
When applying for this position, you will need to be at least 18. You will also need to be able to work with computers and have a typing speed of at least 25 wpm (some companies may want more). You need to have the ability to communicate well – both verbally and written. Work shifts are apt to be varied, and you will need to be prepared to work different shifts, nights, and on weekends and holidays, too. Company uniforms will be required, as well as good grooming practices. Applicant must be able to lift luggage that may weigh about 75 pounds (a few airlines may require being able to move 100 pounds – if you also have ramp operator responsibilities) – possibly repeatedly for hours at a time. Applicants will need to be able to pass a criminal background check that will go back at least 10 years, and also drug tests. A driver's license may be needed.
Individuals working in these positions will need to be friendly and patient – even when working in stressful situations. Passengers can sometimes be irate when told that their flight has been delayed, or when informed of other potential problems. The passenger service agent is the face that the passengers will see and talk to about their particular needs or problems. You may also be required to control the moving of a jet bridge that may be up to 110 feet in length into place using depth perception and hand controls. You may also need to be able to open and close a jet door by pulling or pushing.
Training and Education
A college degree is not needed for this position. About all you need is to have a H.S. Diploma or a GED. Although it is an entry level position, it will be helpful if you are bilingual or have previous experience in customer service. You will be expected to be good at problem solving, have basic math skills, and the ability to follow directions.
Once you are accepted for the position, there will be some paid career training involved that the company will provide you with. This could involve several weeks (four to eight) of training which will include how to use their computerized reservation systems, their manual registration systems, emergency and evacuation procedures, and proper phone skills. In some airports that provide international flights, they may require experience with international travel.
Benefits and Salary
Passenger service agents can expect to get the same benefits as other airline employees. This usually includes benefits such as health, dental, vision, and basic life insurance, vacation with pay, paid days off, savings or retirement plans, and more. Starting salary will vary with the size of the airline, but will be in the range of minimum wage up to about $13 per hour. Part-time positions may also be available during the summer months.
Quick Summary of Airline Passenger Service Agent Employment:
Airline passenger service agent jobs are available and expected to increase.
This job may be combined with other tasks.
There are very few requirements for this position, but being bilingual is sure to help.
The position comes with excellent benefits such as medical and dental insurance, retirement plans, vacation pay, and more.