Federal Aviation Administration Jobs
Jobs with the FAA run the range from safety inspectors to air traffic controllers to program managers, computer programmers and administrative assistants. With more than 40,000 employees, there are many possibilities in dozens of different locations across the country. For current FAA jobs, see our listing in the Job Center.
Visit the Air Traffic Controller jobs page for detailed information about these career opportunities.
Airway Transportation Systems Specialists/Electronic Technicians
Job description: These people fix all the equipment that keep airports, air traffic controllers and airplanes talking to each other.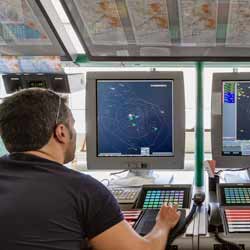 Some technicians handle heating, air conditioning, and lighting systems at the facilities. This is a great job for people who love to get their hands on equipment and keep things running smoothly.
Requirements: ETs must be able to see well enough to perform their duties, and if the situation arises, they must be able to work in small spaces or on ladders. Sometimes, they may have to lift heavy objects. Applicants must be U.S. nationals.
Education: This technician position does not require a college degree, but having one does bump the candidate up to a higher pay band. The FAA website suggests undergraduate major study or at least 24 semester hours in any of the fields of computer science, mathematics, electronics, physical sciences, information management, engineering, telecommunications, or other fields related to the position.
On the job experience can include three years of experience in such jobs as computer specialist, electronics technician, telecommunications specialist, engineer, or other related work.
Pay Range: From $38,000-$66,400 per year
Aviation Safety Inspectors
Job description: Aviation Safety Inspectors pretty much do what their job title says. They make sure that programs meet federally-prescribed guidelines. What does this mean in practice? Well, there are several different categories of this one job and they perform slightly different functions for slightly different groups, but they all work to ensure that FAA regulations are respected across the industry. Some inspectors work in general aviation – a term that refers to smaller, privately-owned aircraft – others inspect the big air carriers, like Southwest and United.
Avionics inspectors look at the electronic equipment on aircraft to make sure that these critical instruments are working correctly, that maintenance staff are appropriately trained, and that maintenance schools are meeting FAA guidelines. Maintenance inspectors verify the airframe and powerplant work, and operations inspectors take a look at the overall workings of the system, including pilots, pilot training programs, and facilities.
Due to the nature of the work, many inspectors travel extensively – remote locations must meet standards just like big-city hubs.
Requirements: Because inspectors are basically double-checking the work, programs, and policies of others, it is not an entry-level job. The FAA has specific requirements for each category of inspector, but in general, it requires an excellent record, strong English communication skills, and good experience in the applicable field.
Education: Education requirements depend on the type of inspector job, but the focus is on career-related training: operations inspectors must have a valid pilot's license, and maintenance or avionics inspectors need the appropriate FAA certifications.
Pay: $41,795 to $79,025 USD per year
Other: Any agency as large and widespread as the FAA needs support from a range of people. Listed below are some of the most-frequently posted jobs. Pay ranges vary based on experience level and pay band – for details on current locations and job descriptions, check out the FAA jobs website.
Some frequently-listed jobs include:
a. Computer Specialists
b. Engineers
c. Executive Resources
d. International Positions