Airline Baggage and Cargo Handler Jobs
If you are looking for an opportunity to break into airline or airport jobs, then this could be just what you are looking for.
Airports often have airline baggage and cargo handler jobs open, and it is a good way to get started – but it will require some hard work. Once you have the job, you can go from there to other job openings.
The Bureau of Labor Statistics is currently expecting the number of passengers and cargo volume to greatly increase within the next few years. In fact, as long as the economy holds out, they expect it to almost triple from what it is now. This means that now is a good time to get into jobs that can provide a great future for you. Full-time and part-time jobs are available in some places.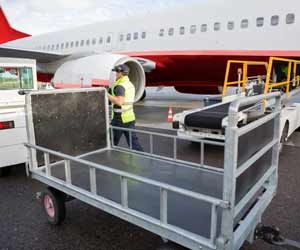 Job Responsibilities
Working in airline baggage and cargo handler jobs will mean different duties at different airports. Generally, the job responsibilities will be more diversified at smaller airports, which may include working at the ticket counter. Among the many duties that you can expect, cargo handlers will typically load, unload, and service aircraft between flights, which means cleaning the aircraft and lavoratories, the windshield, and de-icing the plane. Cargo handlers must load passenger baggage, mail, food supplies, commercial freight, or any other cargo going on the flight. As part of their loading and unloading duties, handlers often operate machinery such as forklifts, tugs, baggage conveyors, and various freight and baggage vehicles.
At smaller airports they can expect to meet the plane, communicate with the pilot to bring it to a parking spot, and possibly tow the aircraft, too. They may also provide shuttle service to and from the plane, hotels, car rentals, restaurants, etc. Since this position means it often deals with pilots and some passengers, strong communication abilities are needed.
Job Requirements
The main task in airline baggage and cargo handler jobs is to put it on the aircraft, or take it off. This is strenuous work and requires that the individual be strong and able to repeatedly lift up to 70 pounds or more. It may also involve taking this much weight up or down aircraft steps, too. They must be willing to work in all types of weather year around, which can be extreme in some places. The environment is often noisy, and they will be under frequent deadline pressure. They must also be able to follow safety standards for driving and moving heavy objects around expensive aircraft without damaging them.
In smaller airports, a baggage and cargo handler may help check in baggage by tagging it with barcode information to help track it. They may also assist passengers to find their luggage and file complaints or damage reports on computer. Cargo handlers may also receive cargo, tag it, and make sure that it gets put on the right plane. They also must ensure that there is enough space on a plane for a shipment, and must ensure that the aircraft is properly balanced.
Training & Degrees
As far as education goes, you must have a high school education or its equivalent, but a higher degree may be required at a larger airport. You will need to be at least 18 years old, and have a driver's license with a good driving record. Cargo agents may need to have a special license to drive large trucks and other vehicles. Since this is an entry level job, the airline will usually provide training – which is probably at the airport, but may be at another location.
All airport employees must be able to pass a background check that will go back at least 10 years. Passing a drug test is another requirement. You will be required to wear an airline uniform and maintain a good appearance at all times. Some airlines have special height-to-weight limitations and only offer certain size uniforms, so staying fit and trim is important. Since passengers often travel on weekends and holidays, you can expect to work both, as well as during any shift – possibly with overtime. Some airports have employees working eleven hours in four days, with three days off.
Salary & Benefits
The pay and benefits for airline baggage and cargo handler jobs is typically very good. You can expect benefits such as medical, dental and vision insurance, some life insurance and disability, vacation pay, sick days with pay, a retirement plan (probably 401k), possibly long-term care, and more. At some airlines, you may also get flight benefits, too.
Average starting pay is between $9 and $11 per hour, but there may be considerable overtime. There are opportunities for advancement in this field, particularly at larger airports – which are often unionized.
Quick Summary:
Airports are often hiring baggage and cargo handlers.
It is hard but steady work.
There is room for advancement.
The job comes with great benefits.