Selling on Etsy
Etsy, as the Website emphasizes, is a venue, a place where people looking for art, crafts, supplies, jewelry, handmade items, and vintage items can find people selling those same items. If you make jewelry, create art, sew quilts, or collect vintage items (any item more than 20 years old), and you'd like to find a way to sell it, then look into Etsy. Etsy is a good alternative to opening your own store or even going to the expense and trouble of creating your own Web site.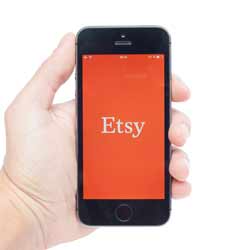 Etsy already draws thousands of visitors so you have a ready market for your products without having to invest in marketing and other techniques to get visitors to your own website. However, depending on the kind of product you're selling, there may be thousands of products competing against yours. For example, if you knit afghans or other items and create an Etsy shop, your product will be one of more than 79,000 knitted items (as of today) already posted for shoppers on the site. Still, if your product is unique and attractive, you may be able to sell it.
Get Started Here: www.Etsy.com
So how do you go about doing that? You have to sign up at the site. When you do so, you'll receive your own Web address that's based on your user name. It'll look something like this: https://username.etsy.com. Then you'll be able to customize your store using the Etsy template. Once your store is complete, you'll be able to start loading it with items. Each item listing should include a photo and description, as well as price.
I did mention this was low cost, right? So here's what you pay to get started on Etsy. Each item you load to your new Etsy boutique will cost .20 (yes that's twenty cents) and will be available for shoppers to view for four months. If a buyer purchases one of your items, you'll pay Etsy a 3.5% transaction fee. So let's say you sell that knit afghan for $100.00 (plus tax and shipping costs, of course). Etsy would take $3.50 of your sale. Not bad, right?
As I mentioned, though, you can face a lot of competition. How do you ensure your products will be viewed and sold? While there are no sure-fire ways to guarantee sales, here are some tips for increasing your chances of selling your items on Etsy:
Use a quality photo that makes your item as attractive as possible. Sounds like a no-brainer, but many people who are in a hurry to post an item take the picture in dim lighting, or with too much going on in the background, or without properly displaying the item.  For example, if your item is a knitted baby hat, find a cute baby, get mom's permission, and have Cute Baby wear it in the picture. It is much more likely to get attention than if you lay the hat on a table and take a picture of it.
Provide accurate descriptions of your products that also sell them. Descriptions must give potential buyers all of the information they may be looking for, such as measurements or size, colors (colors can look different on different computer screens), what the item is made of (materials), uses for the item (if there is more than one), who would enjoy the product, whether it would make a great gift item, etc. Just be careful not to write a novel. If your description is way too long you are sure to lose shoppers' interest. Also make sure you emphasize the most attractive benefits of the item. For example: "This unique, cute, and soft baby hat will keep baby's head warm and snug in cold winter temperatures."
Price your items fairly. While it may have taken you a year to create your latest work of art, few buyers can afford to pay you a year's salary for it. To find a fair price for your item, shop the Etsy site in that category and make note of the prices of similar items. Your price doesn't have to be the lowest – especially if your item is well made and attractive – but it shouldn't be the highest either. Aim for a price that is competitive but yet adequately compensates you for the time and materials.
Using Etsy to sell handmade items, art, crafts, and vintage goods can be a great way to earn some much needed extra cash, if you take the time to present your items in the best light.