Social Media Manager Careers
Billions of people use social media every single day. They log in to Facebook, Twitter, Instagram, LinkedIn, Google+, Pinterest, Foursquare, Yelp, YouTube, WordPress, Reddit, or countless other social media outlets to stay in touch, network, search for jobs, and be a part of the online community.
Social media is a fascinating communication outlet that gives everyone a voice – including companies, brands, websites, and individuals. It's a viable marketing tool and a valuable communication outlet. As this niche continues to grow, companies around the world are actively hiring social media managers.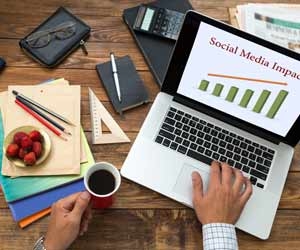 Social media managers constantly monitor a company's brand and develop insights on how to best serve their clientele through different social media outlets. They are a mix of copywriter, community manager, company ambassador, digital strategist, marketing manager, brand manager, and customer service rep. It's a big job with a broad job description.
Social media managers spend their days on social media. It's their job to create new posts, upload photos and videos, respond to comments, update websites, share useful information, reply to emails, boost posts, create graphics, check stats, write and publish blog posts, send tweets, promote specials, schedule upcoming posts, and drive engagement. Social media managers are also responsible for monitoring the competition, making connections, and being an active online presence. Social media is their life.
Monitoring insights and analytics can help social media managers identify their audience and demographic, develop social media strategies, and define their brand. Then by focusing on those stats and data, social media managers can tweak what and when they post to get the highest reach and engagement. Interacting with your online community is often a trial and error process, but when it goes well it means good things for your brand. Luckily, a good chunk of the job can be done from the comfort of your smartphone.
To become a social media manager, you need to understand how social media works. Start by learning about all of the different social media outlets and then see how they are all interconnected. Next help your company capitalize on the free marketing power of social media by driving engagement and boosting your brand.
Many social media managers have degrees in communications, marketing, social media management, or information technology. You can even go to graduate school for social media. Some social media managers learn this speciality by taking free online courses. To break into social media management, it's wise to develop your own personal brand and following to show that you understand how this niche works.
The world of social media is constantly evolving. New social media sites pop up regularly. Big social media outlets change the way that fans are reached. New layouts, designs, and apps affect engagement. If you're not constantly paying attention, attending conferences, and focusing on social media, you will get left behind.
From a small retail store to a Fortune 500 company to an aspiring blogger, every company, website, and individual needs a strong social media presence. This means there are plenty of opportunities for aspiring social media managers. Many social media managers land full time jobs working on a social media team at a big company. Others work freelance or part-time managing smaller contracts. Whatever gig you land, you'll stay busy.
Once established as a social media manager, you can expect to make $30,000 to $120,000 per year. Pay depends on clientele, location, experience, and results.
Social media is a booming niche. It's changing how we interact on a global scale. Companies need social media experts like you to promote their brand. If you're keen to pursue a social media manager job, get online today.
Quick Facts About Social Media Manager Jobs
Job Title: Social Media Manager
Office: Social Media Sites
Description: Drive brand engagement through social media
Certifications/Education: No formal training required
Necessary Skills: Knowledge of social media, Time management
Potential Employers: Companies, Websites, People
Pay: $30,000 to $120,000 per year
Helpful Social Media Manager Employment Links: