Weight Loss Coach Jobs
Do you wish you could shed a pound or two? Or ten? It's easy to look at yourself in the mirror and realize that you're out of shape and overweight. It's harder to actually lose those extra pounds. In theory, weight loss should be easy – eat less and do more, but it's something that everyone struggles with. Losing weight requires hard work, determination, and motivation. One of the best places to find weight loss motivation is from a weight loss coach.
A weight loss coach is a fitness specialist who helps people lose weight. They must have a genuine desire to motivate people to get in shape through diet, exercise, and lifestyle changes. Weight loss coaches are a combination of personal trainer and life coach. It's their job to harness a person's motivation and then customize the weight loss experience.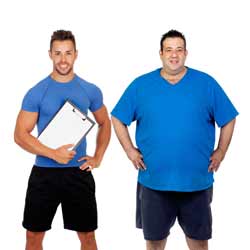 The weight loss industry is a $60 billion industry that caters to the approximately 67% of US adults who are overweight or obese. Weight loss coaches are in demand and there is a huge client base for aspiring weight loss coaches. People want to get in shape for a variety of reasons like – a doctor's recommendation, an anniversary, or just to shed a few pounds as a New Years Resolution. A weight loss coach can help them work toward that goal.
By focusing on lifestyle changes, weight loss becomes more manageable. A simple change in your daily routine can make a tremendous impact on your life. Imagine walking to work instead of driving or working out for a half hour instead of watching television. By focusing on lifestyle changes in combination with diet and exercise, weight loss coaches can really help people lose weight. Instead of starving clients or living in the gym, weight loss coaches help clients create a plan that includes moderate exercise, nutritious diet, good sleep, positive attitude, and the right motivation.
To become a weight loss coach, it's a good idea to earn a degree related to weight loss like nutrition, biology, or physiology. It's important to have a background in fitness and nutrition too. Armed with this knowledge, weight loss coaches can recommend diets like low fat, low calorie, vegetarian, or low carb. They can customize workout plans that focus on cardio or strength training. They can recommend the right types of exercises like walking, running, biking, weight lifting, or Zumba. They can recommend activity bands, body fat scans, or other weight loss techniques.
No certification is required to become a weight loss coach. A weight loss certification can help you land a job, but get one from a reputable organization. The National Academy of Sports Medicine offers a Weight Loss Specialist. The American Council on Exercise has a Weight Management Speciality Certification. You may find that a certification is not necessary for you to be successful.
Many weight loss coaches are entrepreneurs who build a clientele on their own, but it may be easier to find weight loss coach jobs at health clubs, gyms, or fitness studios. After you find a full time job, it's important to establish yourself through results for your clients, a positive attitude, and a solid reputation. Weight loss coaches make approximately $66,000 per year.
Being a weight loss coach is a rewarding job that truly helps people achieve a healthier lifestyle. If you want to help people live a longer, fuller life then look into become a weight loss coach.
Quick Facts About Weight Loss Coach Careers
Job Title: Weight Loss Coach, Weight Loss Educator, Weight Loss Consultant
Office: Health clubs
Description: Help people lose weight through a combination of diet, exercise, and lifestyle changes
Certifications/Education: No formal training required
Necessary Skills: Knowledge of workout plans, diets, and human body
Potential Employers: Self-Employed, Gyms, Fitness Studios, Health clubs
Pay: $66,000 per year
Helpful Weight Loss Coach Employment Links: