Sports Team Mascot Jobs
The Anaheim Ducks have Wild Wing. The Phoenix Suns have Go the Gorilla. The Denver Nuggets have Rocky the Mountain Lion. The San Diego Padres have the Chicken. Nearly every professional sports team has a mascot. A mascot is a fun, energetic symbol of a team. It is the energy inside the person inside the larger than life suit that brings the team luck.
Mascots bring the team and the fans together. They perform during games, appear at community functions, maintain their larger than life mascot costume, and much more. Mascots work year round to keep the fans excited in the off season.
Mascots jump through hoops, slide belly first across basketball courts, leap through burning rings, shoot or throw goodies into the crowds, play chase with other mascots, jump on trampolines, do back flips, start the human wave, or do pushups for every point their team scores. Crowds love mascots because they never know what to expect. It's hard to be a spontaneous fun spirit for hours on end if you don't let the creative juices flow.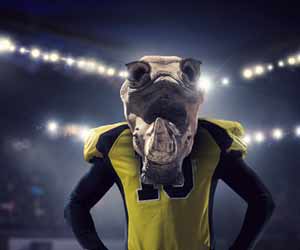 Mascots are athletes. Being energetic for multiple hours is intense. Luckily, the person inside the mascot costume performs anonymously. All the fans see is a big costume running around acting silly. So shy people should apply too. It's the chance to let out your inner fun.
The more entertaining and cutting edge a mascot is, the better. Mascots become famous when they create memorable moments – sometimes the mascot's hijinx will be more memorable than the actual sporting event. Remember when the Anaheim Ducks' Wild Wing's skate got stuck in a trampoline and he fell into a wall of fire, when the Kansas City Royal's Mascot, Sluggerrr the Lion was sued over throwing hotdogs and hitting a fan in the eye, or when Phillie Phanatic got punched out by the Dodger's manager. And mascots do it all without even speaking.
Mascots must be great with people of all ages (you'll get your photo taken with lots of children), able to mime and gesture (mascots don't speak), solid entertainers, and in good athletic shape.
See related pages on JobMonkey: NBA Jobs, NFL Jobs, MLB Jobs
The best place to get started in this industry is to look into mascot training with groups like Pro Mascot or Raymond Entertainment Group. These groups do training, but they also help design, build, and create mascots for different teams. They can be a hit like The Red Sox's Wally or a miss like the San Francisco Giants' Rehab the Crab.
Once a team decides they want a mascot, there is an intense audition – imagine American Idol for mascot performers. The best experience builder is to work with smaller teams. It's a great way to prove your entertainment value.
Experience is key. To get into the big leagues, you'll have to try out. Trying out for a mascot position is a lot like trying out for the actual team itself.
While almost every team has a mascot, about half have a full-time mascot, who brings in lots of money. Mascots help with fan loyalty, merchandise sales, and team spirit. Most full time mascots make about $25,000 a year. If you were born to be a mascot and you're the best in the industry, you can make a six-figure salary. NBA mascots make more money than MLB mascots.
If you love sports, are athletic, and are creative enough to fill countless hours entertaining and distracting, then consider a career as a mascot. Being a mascot will get your adrenaline flowing and will make you smile. You'll be the spirit of the team. Basically you just go out and act as immature as possible. And the fans will love it.
Quick Facts About Becoming Mascot
Job Title: Mascot
Office: Stadiums
Description: Entertain and distract fans during sporting events.
Certifications/Education: No formal training necessary.
Necessary Skills: Entertainment without words
Potential Employers: Sports Teams
Pay: $25,000 per year, the very best can make over $100,000 per year
Helpful Sports Mascot Employment Links:
Search Antiques Dealer Jobs on JobMonkey
ProMascot
Raymond Entertainment Group
Mascot Stalker
Street Characters Inc.