Venture Capitalist Careers
Are you an entrepreneur? What's your billion-dollar idea? Once you get your idea up and running how are you going to gain momentum? It might be time to work with a venture capitalist.
Venture capitalists are business savvy, financial professionals who help to raise capital to invest in early stage, high potential projects like start-up companies. Essentially venture capitalists take calculated risks and play the odds on whether a new company will be successful or not. Venture capitalists are the original financial backers of many of the name brand companies you recognize and use today.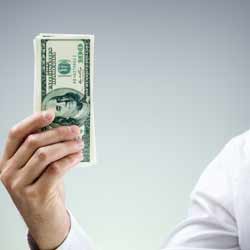 Venture capitalists create investment opportunities by evaluating and analyzing small companies. They do this by knowing the industry, searching records, looking over financial statements, conducting interviews, and creating informed opinions. If the company is strong, the risk is acceptable, and the potential is high – it's time to invest.
Venture capitalists position themselves to work directly with the company – usually in a management role or on the board of directors. This gives them a share of the company's equity, a say in the company's decisions, and the ability to negotiate the terms of investments.
Next a venture capitalist raises and invests third party funds. Usually they seek investments of $500,000 or more from wealthy investors, investment banks, hedge funds, or financial institutions. The intention is to use these funds to drive the company to success.
Ultimately, the venture capitalist is playing the odds that an early investment in the company will pay off with a huge return on investment (ROI). Once the company hits the big leagues, the venture capitalist can liquidate their equity and make big bucks.
For the start up company, a venture capitalist is an invaluable resource that drives them to success. For the venture capitalist, a high potential start up is an excellent way to make money quickly. It's a mutually beneficial relationship – as long as it works. As a niche, venture capitalists are making and creating billions of dollars every single quarter.
It's not easy to become a venture capitalist. One article from Forbes, says you have about the same odds of becoming a venture capitalist as you do a Major League Baseball player. You have to have the right skill set, background, and network.
There's no direct route to becoming a venture capitalist. Most start in the business world and have a background in technology, consulting, investing, banking, or accounting. Experience working with hedge funds or private equity is helpful too. A solid business background combined with a top notch MBA, provides skills like math, business, finance, technology, persuasion, planning, team work, and market knowledge – all vital skills for a successful venture capitalist. Combine this background with an all-star network and you'll be headed down the right path.
Many aspiring venture capitalists start as angel investors who invest their own funds in start up companies. Having a successful track record of helping lucrative companies is a great way to get your foot in the venture capital door. Most venture capitalists work for venture capital firms like New Enterprise Associates, 3i, Intel Capital, or Oak Investment Partners.
There's no doubt about it – being a venture capitalist is a risky profession. But high risk equals high returns. On average a successful venture capitalist will earn $80,000 to $250,000 per year. Many make more and it seems like the sky's the limit.
If you want to be a venture capitalist, develop your business sense, find a career in the investment world, and grow your network. Then it's up to you to determine if a business will be a total success or a complete failure. Are you ready to invest?
Quick Facts About Venture Capitalist Jobs
Job Title: Venture Capitalists aka VCs
Office: Desk Based
Description: Raise capital to invest in early stage, high potential projects
Certifications/Education: MBA recommended
Necessary Skills: Business-savvy, Risk analysis, Investing
Potential Employers: Venture Capital Firms
Pay: $80,000 to $250,000 per year
Helpful Venture Capitalist Employment Links: