Talent Agent Jobs
How is talent discovered? You can't just wake up one morning and land the lead role in a Hollywood hit. Every talented person needs help to turn his or her talent into a career…the help of a talent agent.
Talent agents find work in the film and music industries, and so on, for talented people. They represent people such as actors, actresses, voice talent, authors, musicians, models, and other people in the entertainment industry.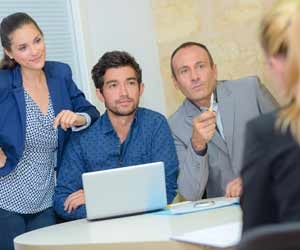 Talent agents mix and mingle with Hollywood's hotshots. They work behind the scenes to ensure that their clients receive auditions and they market their clients so ideally their names gain worldwide recognition. It's busy work that pays well.
Typically a talented person contacts a talent agent and asks for assistance in finding work. If the talent agent thinks he can sell the person's skills or look, he accepts them as a client. The two agree on a written contract that determines the length of time the agent/talent relationship will last, the extent of the relationship, the payment terms, and all the legalities. Talent agents may represent 100s of people or just a select few.
Talent agents usually develop a niche of people they represent. They may specialize in age, sex, or talent. This way they become experts in a certain area of the entertainment industry. It helps them find auditions for their clients, but also helps buyers because they know who to contact when they are searching for something specific.
During an average day in the life of a talent agent, he acts as the middleman between the talent and hiring advertising agencies, casting directors, radio shows, or theaters. He makes lots of phone calls, meets with new and old talent, contacts buyer, organizes auditions, and makes sure that everyone is happy. He must be a jack-of-all-trades – people person, promoter, marketer, advertiser, public relations pro, and secretary.
Throughout the process the talent agent builds lifelong friendships and career relationships. He works alongside celebrities and people with power and also acts as advisor, mentor, and guardian – always with the talent's best interest in mind.
Ideally a talent agent will always match the perfect talent with the right project – or at least projects that align with the talent's career goals. This means that quality auditions are more important than the quantity of auditions. Tom Hanks is going to love auditioning for the next Hollywood Blockbuster, but may not be too pleased if he gets auditions for beef jerky commercials.
Talent agents are always networking. They know lots of people and are able to quickly search through resumes and headshots to make matches. Once a match is made, the talent agent is in charge of negotiating contracts and making sure everything goes smoothly. The talent agent doesn't get paid until the actor or actress gets a paycheck.
Pay is determined by the original contract. It is not uncommon for a talent agent to earn a 10% to 20 % agent fee for each found project. This percentage is taken from the amount the actor is paid, which translates into big bucks if they represent a Brad Pitt or Will Ferrell. Depending on who they represent, a talent agents will pull in $25,000 to $140,000+ per year.
To make the big bucks, like Ari Gold in Entourage, you'll have to live in talent hotspots like New York, Los Angeles, or Chicago. You can either work in a talent agency or strike out on your own. Internships with big talent agencies like Creative Artists Agency, International Creative management, or United Talent Agency are a great way to build a talent agent resume.
Talent agents are the puppetmasters of the entertainment industry. Does this sound like something you'd like to do?
Quick Facts About Working as a Talent Agent
Job Title: Talent Agent
Office: Talent Agency
Description: Find talented individuals and find them quality projects
Certifications/Education: No formal education required
Necessary Skills: Networking, Remember details and faces, Able to multi-task
Potential Employers: Talent Agency
Pay: 10% to 20% of client's paycheck, which is about $25,000 to $140,000 or more per year
Helpful Talent Agent Employment Links:
Search Talent Agent and Other Agent Jobs on JobMonkey
Association of Talent Agents
Screen Actor's Guild
American Federation of Television and Radio Artists
Casting Society of America