Voice Actor Jobs
Please read this out loud. Do you enjoy listening to your voice? Is your voice unique? Soothing? Gruff? Sensual? Exciting? Does it stand out in a crowd?
Is it a voice that will sell? Do you think you have a voice that is ideal for professional voice acting?
Have you ever wanted to be the voice on the radio advertising the local Happy Hour? Or maybe you want to be the voice heard by millions as you read the pages of the next Twilight audiobook? What about the voice on the next Halo video game? You could be, if you start to market your voice.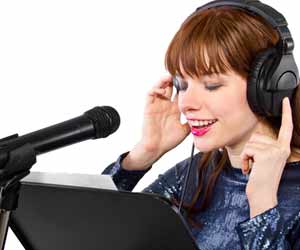 Voice actors have an amazing job. They may be called voice actors, voice talent, professional voices, or voice artists. They get paid to talk. It's as simple as that. Are you already wondering how to sign up? Whenever you hear a voice without seeing who is speaking it is a voice actor. This happens in radio, television, training narration, audiobooks, phone messages, voice mail navigation, character voices, animations, promotional videos, video games, puppet shows, amusement rides, commercials, movie trailers, and a whole heap of other places. Every project is different. There is a huge market for voices and every voice has potential to be famous.
If you want to be a voice actor, you need to get your act together. First it's a good idea to learn a bit about voice acting. Check out a Getting Paid To Talk course to get the lowdown. They are nationwide and are a great starting point for voice over jobs and voice acting. Then you need to create a professional demo reel of your voice. This demo tape is your portfolio and resume.
Along with a demo reel, you need to know and understand your voice. What qualities does your voice have? What products can your voice sell? If you don't know, listen. What type of niche can you carve for your voice? Listen to other voices out there and see where your voice might fit into the voice marketplace. You may want to find a voice agent or use a website like www.voices.com. This will help connect you with employers and find your first gigs.
In the voice world, lack of experience isn't a deal breaker. Employers are just looking for a voice that fits their needs. In order to find a job, you'll have to audition. Most voice actors start out doing local jobs like radio ads. They may also be able to find jobs through advertising agencies, independent producers, marketing departments, casting directors, or producers. You should be aware that if you want to do something big like the voice of Darth Vader, Kermit the Frog, or Bart Simpson you will have to be a member of a union like the Screen Actors Guild or the American Federation of Television and Radio Artists.
Today the voice acting world is changing. With the ease of home studios and the high power of the Internet voice acting work can easily be completed from the comfort of your own home. You don't have to be eye candy to be a voice actor. You can even work while wearing slippers, sweatpants, and a t-shirt as long as you can speak.
Most voice actors get paid by the hour, and the rate of pay depends on whether the individual is a member of the union. As freelance workers, voice actors can negotiate their rate of pay with a prospective employer. Work may be sporadic, and a person interested in this career may have to consider taking temporary work to make ends meet between gigs.
If you have a good voice, learn to read and speak conversationally, maintain your voice health, and market yourself, then you can build a voice acting career quickly. All you have to do is talk.
Quick Facts About Voice Acting
Job Title: Voice Talent
Office: Sound studio
Description: Record your voice
Certifications/Education: No formal requirements
Necessary Skills: Ability to Speak
Potential Employers: Advertising agencies, Film, Television, Animation, Radio, Commercials, Movie Trailers, Promotions
Pay: Depends on project and hours worked
Helpful Voice Actor Employment Links:
Search Voice Actor Jobs on JobMonkey
Voices.com
Screen Actor's Guild
American Federation of Television and Radio Artists
Voices For All
VoiceOver International Creative Experience