Surveyor Jobs
Land ownership is an interesting thing. How do you know where one property ends and the next one begins? Who's responsible for defining property boundaries? That's the job of a surveyor.
Surveyors take measurements to determine land and water boundaries. They precisely measure the distances, directions, and angles to legally define the size and shape of both public and private properties.
Surveying is much more complicated than just drawing a line on a map. It's a science and skill that has been around for thousands of year. It directly affects real estate, construction, oil and gas exploration, mining, bridges, roads, utilities, and other easements. Surveying is all about accurately defining property ownership.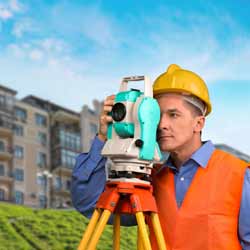 Land is three dimensional, so surveyors must take into account shape, contour, location, elevation, and dimension of the land. Surveyors use precision tools and evolving technology to take accurate measurements. Based on agreed upon benchmarks, surveyors use transits, total stations, scanners, prisms, levels, tablets, theodolites, GPS, and GIS to measure, size, shape, and ultimately define boundaries on land and water.
Everyday is different for a surveyor. They may spend the day bushwhacking up a mountain to find a remote corner pin, standing in traffic defining the location of a power line easement, or sorting through legal records and writing land descriptions. It's a career that offers a nice balance of both field and office work.
In the field, a surveyor's tasks include confirming the accuracy of land measurements, calculating heights and depths, determining property lines, pinpointing latitude and longitude coordinates, establishing fixed points, or setting land boundaries. In the office, surveyors utilize legal records and land titles to determine property information, prepare sketches, maps, and reports for legal descriptions, write land descriptions based on recent surveys, coordinate with clients, and help to settle legal disputes.
Ultimately, surveys can influence maps, engineering projects, construction projects, land valuations, mining claims, property disputes, real estate development, utility easements, and other land issues. The results of a survey are often legally binding. Accuracy is key, but there is always a little wiggle room for error. When it comes to measuring the land, surveyors are about as accurate as you can get.
To become a surveyor, you need a bachelor's degree in engineering, forestry, mathematics, GIS, or surveying from an accredited school. Then an aspiring surveyor can find a job with surveying companies, engineering firms, or local and state governments.
Usually a surveyor will start as a survey technician where they can learn the ropes of this precision job. During this time they can develop skills like distance measurement, angle measurement, leveling, positioning, and referencing. After a few years, a survey technician can become a licensed surveyor. A license allows a surveyor to certify legal documents and provide surveying services. The National Council of Examiners For Engineering and Surveying oversees all licensing. Requirements vary by state, so do your research.
Surveying is a steady and secure job. As long as people buy, sell, and develop land, there is a demand for surveyors. It is expected that surveying will grow by about 10% in the near future – especially in areas with a construction booms.
Currently there are about 42,000 surveyors working in the US. Those surveyors make $30,000 to $90,000 per year. The average salary of a surveyor is $56,230 per year or $27 per hour.
If you're looking for a steady, detail-oriented job that allows you to work both inside and outside, then surveying might be the perfect career choice for you.
Quick Facts About Surveyor Careers
Job Title: Surveyor aka Land Surveyor aka Survey Technician
Office: Office and Field
Description: Measure the land to legally define property boundaries
Certifications/Education: State License
Necessary Skills: Mathematics, Detail Oriented, Precise, GPS, GIS
Potential Employers: Surveying Companies, Engineering Firms, Governments
Pay: $56,230 per year or $27 per hour
Helpful Surveyor Employment Links: