Shoe Shiner Jobs
What do human rights activist, Malcolm X, the Godfather of Soul, James Brown, a former President of Peru, Alejandro Toldo, and MLB baseball star, Sammy Sosa, have in common? They are all former shoe shiners.
Shoe shining is a common practice around the world. It keeps shoes looking new and lasting a long time. Freshly shined shoes accentuate a wardrobe, make you look professional, and create a great first impression. Wearing a newly polished pair of shoes is a fantastic feeling and that's why people visit shoe shiners regularly.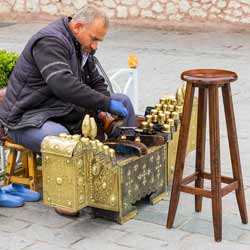 Shoe shiners shine and buff shoes. They cater to respectable professionals who take pride in their footwear. Shoe shiners like to set up shop in places with lots of foot traffic such as street corners, airports, resorts, and other establishments. In big cities like New York or Chicago, there's an established shoe shiner every few blocks.
Once a shoe shiner has a spot to do business, they need a kiosk where clients can sit and have their shoes taken care of. The job requires a shoe rest and a shoe shining kit that consists of essentials like waxes, brushes, daubers, cloths, shoehorns, leather protectors, and polishes. Shoe shiners may also sell shoe accessories like laces or polish.
Shoe shiners are footwear experts. When a customer comes for a shoe shine, the shoe shiner assesses their shoes, cleans them with a brush, removes any old polish or wax with a sponge, applies the correct type of polish by hand, and buffs out the shoe. They utilize different techniques for different types of shoes and materials.
To become a shoe shiner, you do not need any formal education or training. Shoe shiners learn the trade by practicing. They may take advantage of online tutorials or learn from an established shoe shiner. The key to success is the ability to interact with people and sell them on a shoeshine. This requires a pleasant personality, a guest service charm, and the ability to build a repeat clientele.
There are shoe shiner jobs available at airports, resorts, hotels, retailers, department stores, country clubs, and other places. Many shoe shiners are entrepreneurs who start their own licensed, shoeshine business in places with lots of foot traffic. Self-employment is usually more lucrative, but also requires up front costs and a bit more effort.
Let's take a look at a real life shoe shiner. The New Yorker wrote an article about a shoe shiner in New York named Don. Don shines shoes at Sixth Avenue and Forty-Seventh Street in Manhattan. Don charges $5 for a shoeshine and sees 40 to 60 customers a day. Plus, he makes tips. Not a bad way to make a living.
Not every shoe shiner is as successful as Don. Typically, a shoeshine costs about $5 to $8 and takes about 5 to 15 minutes. A charismatic and efficient shoe shiner can shine roughly 6 pairs of shoes per hour. After a low initial start-up cost, the only real expense is shoe polish. A single can of polish costs less than $10 and can polish up to 50 shoes. Do the math and you'll see that shoe shining has the potential to pay quite well.
If you choose to work for an established company instead of starting your own business, you may only make $10 per hour or $20,000 per year. Shoe shiners typically receive tips too.
People work as shoe shiners all over the world. It's a cool job that employs lots of people. Are you going to find a shoe shiner job?
Quick Facts About Shoe Shiner Jobs
Job Title: Shoe Shiner
Office: Shoeshine Kiosk
Description: Shine and buff shoes
Certifications/Education: None Required
Necessary Skills: Shoe shining skills, People person
Potential Employers: Self-employed, Airports, Resorts, Clubs
Pay: $10 to $30 per hour plus tips
Helpful Shoe Shiner Employment Links: