Website Designer Careers
According to Internet Live Stats, there are over 3 billion Internet users in the world. Those Internet users have access to over 1 billion websites, send over 150 billion emails per day, do almost 2 billion Google searches per day, and write over 2.6 million blog posts every day. Do you use the Internet? If so, you're a part of these statistics.
Websites focus on all sorts of things – retail, fan clubs, games, education, news, blogs, companies, social media, or government. Next time you go to a website, pay attention to its visual appeal, ease of use, and overall layout. These are the things that a talented website designer gets paid to focus on.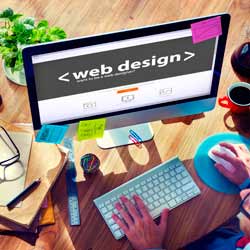 Website designers design, build, and develop websites. They are responsible for a website's visual components and the user experience. The website designer plans the website's layout, organization, colors, images, and overall graphic design. They need a mix of skills including marketing, communications, graphic design, user experience design, page layout, search engine optimization, typography, and publishing.
Behind all of the menus, buttons, content, and ads is the technical side of website design. Website designers must master these coding skills too. Sometimes they may work with a web developer, but it's important for all website designers to understand and have a working knowledge of coding and design software.
When learning to become a website designer, you must learn how to use programs like Photoshop and Illustrator. You need to be knowledgeable about XML, Javascript, CSS, .Net, HTML, PHP, Flash, Ruby, and more. Website designers also need to learn about pop-ups, surveys, animations, links, downloads, Jpegs, spiders, meta tags, search engine rankings, hosting, domains, SSL, FTP, browser compatibility, website security, and so much more. When you master the necessary skills, you will be able to create any type of website.
Bloggers, job seekers, retail stores, government agencies, and companies all need different types of websites. The more skills you have, the more versatile you will be. Many website designers have no formal training. Others earn a Bachelor's or an Associate's degree in graphic design, publishing, or computer science. Website design certifications are available, but are not always required to find a job.
It can be hard to break into website design. One way to gain inspiration is to surf the web and see what is possible. Then learn how to do it. Most website designers get their start by creating websites for their friends or for their portfolio. The more live websites you publish, the easier it will be to hone your skills, find clients, and market yourself.
Most website designers are self-employed and find work via freelance or contract based opportunities. Some website designers land full time jobs working for companies to design and manage websites. Wherever you work, the goal is always the same – to create functional, informational, and user-friendly websites that your client approves of.
Website design is a cool and unique job because it often offers a flexible schedule and potential telecommuting opportunities. It is a form of creative communication that is constantly evolving. Therefore, website designers must always be up-to-date with the latest info to stay competitive in this growing field.
Once established, website designers make $50,000 to $75,000 per year. The average annual salary is $63,000. Currently, there are about 140,000 people employed as website designers in the US. The BLS expects this number to grow by 20% by 2022. That's quite an opportunity for technology savvy individuals.
The Internet is ripe with potential. New websites are popping up every day and nearly a billion must be managed and maintained. That means lots of job opportunities. Are you ready to find a job as a website designer?
Quick Facts About Website Designer Jobs
Job Title: Website Designer or Web Developer
Office: Computer based job
Description: Design, build, develop, and manage websites
Certifications/Education: No formal training required
Necessary Skills: Graphic Design, Coding
Potential Employers: Self-employed, Individual Companies
Pay: $50,000 to $75,000 per year
Helpful Website Designer Employment Links: