Watchmaker Careers
When someone asks you what time it is, where is the first place you look? If you're like many people, you probably look at your watch. Watches are one of the most convenient time keeping devices available. When they need to be serviced, you're going to need a certified watchmaker.
Watches were the logical evolution of the clock. Peter Henlein, a German craftsman, created the first watch in the 16th century. His passion for horology, the art and science of measuring time, changed the timeliness of the world. Today, watchmakers service, repair, build, clean, and adjust mechanical watches.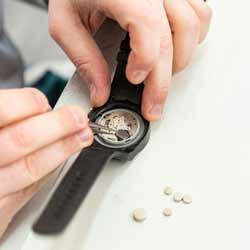 Watchmakers pride themselves in creating and servicing brilliant watches that are timely masterpieces. Mechanical watches such as wristwatches, pocket watches, and antique watches require regular service to ensure their accuracy and beauty. Watchmakers work with watches from brands like Rolex, Cartier, Bvlgari, Louis Vuitton, Seiko, Tag Heuer, Zenith, or Tissot. These watches are more than time keeping devices. They are an investment and status symbol that must be taken care of.
A quality watch can cost anywhere between a few $100 to well over $100,000. These watches offer unparalleled accuracy, but the gears, springs, and wheels are also sensitive to position, water, temperature, and magnetism. Whenever a watch needs to be serviced, it's taken to a watchmaker.
Watchmakers regularly perform a variety of services on watches such as oiling moving parts, cleaning laser welded hairsprings, testing accuracy, replacing hands and gears, adjusting timing regulators, tweaking wheels, buffing out scratches, refinishing cases, adjusting wrist links, fixing rotating bezels, fabricating parts, replacing batteries, adjusting tourbillions, tweaking compasses, positioning components, and remounting rare gemstones. It takes years of experience to learn this intricate craft.
Watchmakers work in an immaculately clean, dust free, and well lit work station where they can repair both mechanical and cosmetic issues. They use tools like lathes, drill presses, loupes, hand tools, ultrasound machines, tiny screwdrivers, electronic time scales, forceps, and crystal presses. Everything is done by hand to ensure precision craftsmanship. The job requires good eyesight, in-depth mechanical knowledge, and excellent hand-eye coordination.
Watches are highly accurate mechanisms, which makes them quite complex. Watchmakers must learn the art and science of horology through courses, degrees, and apprenticeships. One of the best places to earn a watchmaking education is with the Watchmakers of Switzerland Training and Educational Program (WOSTEP). This program takes years to complete. There may be shorter options closer to home.
After you learn the trade, it's smart to earn a certification with the American Watchmakers-Clockmakers Institute (AWCI). The AWCI has two watchmaker certifications – Certified Watchmaker and Certified Master Watchmaker. These 3-day examinations test you on four criteria. You must take a written exam on watch theory, demonstrate micro-mechanical abilities using a lathe, do a complete service on a quartz watch, and do a complete service on an automatic chronograph watch.
Once certified as a watchmaker or horologist, you can find work at jewelry stores, watch retailers, and watch manufacturers. Some watchmakers are self-employed. The ACWI hosts a watchmaker specific job board to make it easier to find jobs. On average, watchmakers earn $45,000 to $50,000 per year.
In today's world, many people use digital watches or rely on their cell phone for keeping time. The result is fewer people are pursing watchmaker jobs. Luckily, mechanical watches will continue to be a highly valued status symbol around the world and that means watchmakers are needed to keep them ticking.
Are you ready to find a job in the timekeeping industry? Search for watchmaker jobs today.
Quick Facts About Watchmaker Jobs
Job Title: Watchmakers aka Horologists
Office: Watch repair workplace
Description: Build, adjust, and repair mechanical watches
Certifications/Education: Certification available through AWCI
Necessary Skills: Hand eye coordination, Attention to detail, Good eyesight
Potential Employers: Jewelry stores, Watch manufacturers
Pay: $45,000 to $50,000 per year
Helpful Watchmaker Employment Links: