Interviewing Tips
Although many of the traditional rules apply when interviewing for a position in the Music & Film Industry, there are a few exceptions that need to be considered.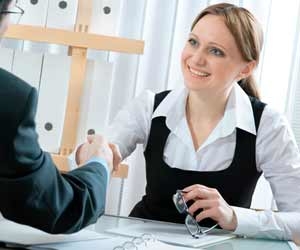 Dress the Part. If you are looking to land a great gig as a 2nd Assistant Director of a Film Production Company and you show up in a 3-piece suit and tie, it can actually work against you. The traditional thought was to overdress. However, in any of the entertainment fields, there is some leeway. It is important to dress the part for which you are applying. Since they all have their own culture, the question is "Will you fit in?" At the same time, look professional and clean-cut in appearance. If you have any tattoos or body parts pierced remove them for the interview. According to Jay Noble, Director of Alumni Relations at Full Sail Real World Education, "Professionalism is something that must be developed over time and directly impacts everything from the initial job interview to your longevity in the industry." Once you are hired you can then re-adjust your appearance if you deem it appropriate.
Research the Film or Music Company. Many of today's leading-edge companies are small private corporations. Each one will likely have their own personal way of doing things, image, and mission statement. It is important that you research all areas of the company, including their clients, equipment, staff, and services they provide. You may be able to use this knowledge during the interview if appropriate. This will without a doubt, separate you from the pack.
Anticipate Common Questions. Availability, commitment, and the ability to work within teams are common topics to be discussed in the Film & Music Industry. You will typically be required to be available 24/7, working long, unpredictable hours within this timeframe. When asked, if your face shows a look of absolute shock, this will hurt your chances for gaining employment.
Be Friendly to All. Since budgets on projects continue to shrink, it is important to not prejudge who you think is important during your visit to the company. Many people must wear multiple hats. The person taking out the trash or answering the phone may just be the owner.
Be Positive. Candidates willing to do anything and are open-minded to learning usually gain high marks. More often than not, the number one reason for not hiring someone is that they feel they are too good to perform a specific function within the company. As a beginner in the Film & Music Industry, you often need to say, "yes" to everything. Then do it with a smile.
Target your Employer. If the employer looks unprofessional, does not put anything in a contract, has large promises yet the company does not appear to reflect those promises, look elsewhere. Many people will promise you the world only to use your services to better themselves. Use your best judgment when deciding to move forward with a position. If they are not going to pay you, then figure out what benefit you will receive for your hard work.
Listen! If you cannot pay attention during the interview, how will you listen as an employee? Pay attention to the questions you are asked so you don't repeat the same information again.
Finally, Ask Questions. If you are really interested in a company, they expect a potential employee to have questions. Write out a list of questions ahead of time and bring them to the interview. When they are all done asking you what they need to, tell them you have a few questions of your own. Even if all of the questions have been answered, it will show the employer that you prepared and are seriously interested in their company. Anything you can do to stand out from the crowd will help.