Airline Pilot Career Overview
Airline pilots are highly-trained professionals who operate aircraft to move people and cargo from one location to another. They are responsible for operating the aircraft safely, including ensuring the safety of the flight crew and any passengers on board. The pilot's job description includes checking on weather conditions before the flight, conducting a pre-flight inspection before leaving the airport, communicating with air traffic control before and during the flight, and updating a flight log book after the plane has reached its destination to record any unusual events. In an emergency situation, the passengers and crew look to the captain to respond appropriately.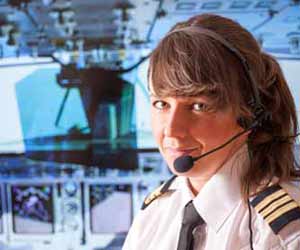 The airline pilot must file a flight plan before takeoff. He or she must have good communication skills to interact with crew members, air traffic controllers, and passengers. The ability to remain cool under pressure is an important trait in successful airline pilots. Applicants must have 20/20 vision, good hearing, and no physical handicaps. Each airline pilot must pass a test administered by the Federal Aviation Administration (FAA).
Required Pilot Training
An airline pilot must have successfully completed at least two years of college education and hold an FAA license. To obtain a pilot's license, an individual must be at least 18 years old. To complete the requirements for a simple pilot's license, an individual must have at least 250 hours of flight experience. To qualify for an airline pilot's position, you must have at least 1,500 hours of flight experience. It takes the average person between 5-15 years to be put in charge of an airliner.
Salary Information
The median salary of an airline pilot is $148,810. In addition, airline pilots are given a hotel allowance (or a per diem allowance) when they are traveling. During time off, an airline pilot and his family qualify for discounts on air travel. Medical benefits and pension plans are usually generous.
Employment Outlook for Airline Pilots
Demand for pilots is expected to increase as older pilots reach retirement age.