Marketing Manager Jobs
A company's marketing manager is responsible for developing its marketing strategy in detail. With the help of subordinates, including product development managers and market research managers, they estimate the demand for the products and services that the company offers. The marketing manager and his or her team also identifies other potential markets for the company's products, develop a pricing strategy, and monitor trends that may affect consumer demand.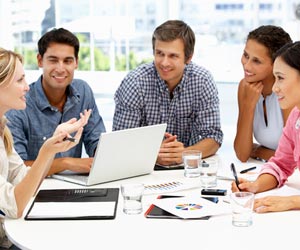 The marketing manager is involved in overseeing product development and helps to promote the company's products or services. The marketing manager oversees his or her department's budget and ensures that the department's activities delivered within the set budget. In the case of a marketing manager for an international company, some travel may be required.
The marketing manager may also be required to arrange for media coverage of the company's products as they are introduced to the market. Good communication skills are essential for this position, since the marketing manager will need to interact with different departments in the company, along with media contacts.
Education Required to Become a Marketing Manager
To get a marketing manager's job, you will need to have a Bachelor or a Master's Degree in Business Administration, with a specialty in Marketing. (A Master's Degree is the preferred level of education.) In addition to the educational requirement, you will need between five and seven years of experience in the marketing field.

Marketing Manager Salary Information
The median salary for a marketing manager is $113,400, not including any bonuses or benefits you would be entitled to.
Employment Prospects for Marketing Managers
The job prospects for this type of high paying work are expected to be average, due to the number of applicants for available positions. If you are interested in working in the field of international marketing, your chances of being hired will be much better if you speak at least one additional language and have a good knowledge of the local customs of the country your company will be doing business in.