Oral and Maxillofacial Surgeon Careers
Oral and maxillofacial surgeons specialize in treating injuries and health conditions affecting the face, mouth, teeth, and jaws.
They treat conditions like tumors and cysts of the jaws, as well as help accident victims who have sustained facial injuries. Part of the treatment may involve reconstructive surgery or dental implants. They also deal with correcting misaligned jaws and treat facial pain.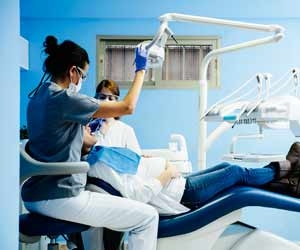 Part of the services an oral and maxillofacial surgeon provides involves controlling pain and administering anesthesia. Many procedures can be conducted in an office setting, and the patient can be kept comfortable throughout.
Most oral and maxillofacial surgeons work in private practice. Having a good knowledge of how to run a business will be helpful, since you will need to hire staff, deal with accounts receivable issues, and managing expenses. 
Training Required
The first step involved in getting trained to be an oral and maxillofacial surgeon is to get qualified as a dentist. While some dental schools will admit students who have completed two years of undergraduate pre-dental education, most of them require a degree first.
After completing dental school, you will still need to complete a four-year program that includes medical, dental, and surgical training. A full 30 months are spent learning how to diagnose and treat problems that occur in the patient's facial area. Surgical training takes up 12 months of the graduate program.
After the training is completed, you will still need to pass a licensing exam given at the national level and then one for the state where you intend to practice. 
Oral and Maxillofacial Surgeons Salary Information
All that work to get qualified as an oral or maxillofacial surgeon will pay off: The mean salary for people working in this field, not including bonuses and benefits, is $178,440. You will need to consider the pay rate, as well as the major student loans you will need to pay off when deciding whether this is something you want to pursue.
Employment Trends for Oral and Maxillofacial Surgeons
There is good news on the employment front for oral and maxillofacial surgeons. Employment prospects are expected to increase faster than average, especially in areas that are under-serviced by these specialists.