Becoming a Prosthodontist
A prosthodontist helps his or her patients by offering options to replace missing teeth. They can provide a complete set of dentures, dental implants, crowns, or bridges, depending on their patients' needs.
Dental implants have become more popular in recent years for patients who need to replace some or all of their teeth, as opposed to dentures.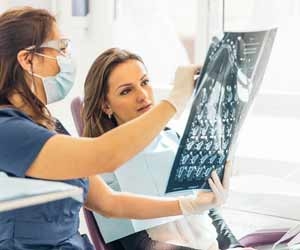 Cosmetic dentistry is also part of the services that prosthodontists provide. They can also apply veneers and provide tooth whitening for their patients. Broken, chipped, or decayed teeth also fall under the prosthodontist's area of expertise.
These highly-trained specialists are also called in to help people injured in accidents or other types of trauma. They help to repair cleft palates, and treat patients who have undergone treatment for cancer as necessary (surgery or radiation).
Training Required
If this field interests you, the first step is to complete at least two years of an undergraduate program. You may have a better chance of being accepted to Dental School if you have received your Bachelor's Degree first. Then you will need to complete the requirements necessary to practice dentistry in your state.
After Dental School, you will need to enroll in a postgraduate program in Prosthodontics. This 36-month training program includes training in anatomy of the head and neck, bite functions, TMD (Temporomandibular joint disorder), and treatment planning. TMD is a disorder involving inflammation of the jaw. The pain may be acute or chronic in nature.
To become certified in this area, you will need to pass a written exam. Three oral examinations are also part of the process. The Board certification in Prosthodontics lasts for six years.
Prosthodontist Salary Information
This is a highly-specialized area of dentistry, and you can expect to get paid well for your knowledge and expertise. The average salary for a Prosthodontist is $169,360.
Employment Trends for Prosthodontists
Job prospects for new prosthodontists are considered good, since new members of this profession will be needed to replace retiring practitioners. There are not many qualified practitioners in this specialty, and demand is not likely to decrease over the next several years.