Medical Internist Careers
Internists are medical doctors who focus on providing non-surgical care for injuries and diseases affecting the body's internal organs. Most of the time they treat adults.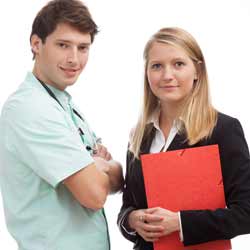 A patient who has concerns about their digestive tract, kidneys, liver, or stomach will likely see an internist for their care. Some internists acts as the primary care physician for their patients in a family practice setting.
Part of the internist's job is to take their patients' medical history, perform physical examinations, diagnose illnesses, and recommend a course of treatment. Internists also order various kinds of diagnostic tests and interpret their results. They may refer their patients to specialists, as necessary.
Internists may work in hospitals or in private practice. They can work long hours; up to 60 hours per week is not uncommon with a busy practice. These medical specialists may need to be on call during certain shifts or come in to the hospital at odd hours to check on a patient.
Training
If you want to become an internist, you will need to complete an undergraduate degree (four years) and four years of medical school. Undergrads will need to take courses in biology, chemistry, English, mathematics, and physics. Education in the humanities and social sciences is also a requirement for future doctors. Medical school Admission Committees will want to see some practical experience when considering applicants, and you may want to volunteer at a hospital or a clinic while an undergrad.
After medical school is finished, the next step is to spend between three and eight years completing an internship and residency. The time involved will depend on the area you wish to specialize in. Some universities offer a combined undergrad and medical school program that students can complete in six years, as opposed to eight.
Internist Salary Information
The mean salary for internists is $167,270, not counting bonuses and benefits.
Employment Trends for Internists
Now is a good time to consider working as an internist, since job prospects are expected to grow faster than normal. Most people who are new to the profession are choosing to practice as part of a group practice, health network, or on staff at a clinic as opposed to going into private practice.