Cake Decoration Jobs
What was the last special event you went to? A wedding? Baby shower? Graduation party? Birthday party? Anniversary party? Cinco de Mayo Fiesta? Did you have a cake? Did you wonder who created and designed that cake? A cake designer gets to make, create, design, and decorate cakes. Cakes can come in all shapes and sizes. They can be a multi-tiered rose covered wedding cake, a baseball bat t-ball end of the season cake, or an Eiffel Tower anniversary cake. Creativity is the only limit.
People order cakes for all sorts of special occasions. They may be centerpieces or they may be a way to remember a memorable time. They can be fun, sexy, or elegant. But cakes are more than just fancy sugar art. When clients order a cake, the cake decorator listens and communicates about color, shape, theme, size, design, flavor, and much more. The cake decorator takes this information and goes to work designing and decorating the perfect cake.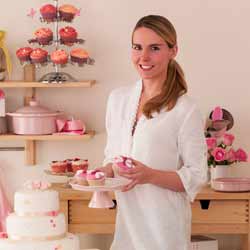 Cake decorating is an art. Cakes can resemble people, places, things, and even ideas. It takes creativity to design a cool cake. It needs to be visually appealing as it often is brought out at a big moment. It takes engineering to get frosting and icing to stick to the right places or the towers of Stonehenge not to collapse. But when it all comes down to it, cakes need to be tasty because after photos and gawking, we want to indulge in deliciousness.
A cake designer job begins with an idea. Next they design the cake, usually on paper. Then comes the creating – cakes need to be molded and sculpted into shape. A cake designer uses tools like spatulas, decorator bags, spinners, writing tips, border tips, and rose petal tips to add the finishing touches. You'll be using icings, frostings, edible decorations, and much more to design a sweet cake. Decorating a cake is a skill. It takes practice to become a professional. Start simply and work your way up to the complex stuff.
Cakes are great. They make us smile. As a cake designer, you'll be very happy when you can make up to $26 per hour or $20,000 to $50,000 per year. That's not bad for having your cake and sometimes getting to eat it too – literally. Cake decorators usually start out by making cakes for themselves and friends in their own kitchen. You can find most cake decorating supplies at craft stories like Michael's. Trial and error is a great way to learn this sugar art.
There are really no formal requirements to be a professional cake designer. A good way to develop this talent is to go to culinary school or find a pastry program accredited by the American Culinary Federation. Other schools like BYU, Boston University, or Cornell offer culinary arts degrees. Another option is to attend the Wilton School that specializes in Cake Design. With a degree you'll learn about culinary creativity, cake decorating, building materials, and much more.
The most job opportunities for cake designers are at bakeries and catering companies. Some find jobs working at grocery stores, freelancing at bakeries during the busy seasons, teaching cake decorating, or being self employed. Wherever you work, be sure to brush up on sanitation laws if you want to be professional.
If you truly think you want to be a cake designing professional, watch a few episodes of Food Network's Ace of Cakes, WE's Amazing Wedding Cakes, or TLC's Cake Boss. These shows will give you a glimpse inside the cake design industry. Maybe you could make cakes and be a television star too.
Quick Facts About Cake Decorating
Job Title: Cake Designer/Decorator
Office: Kitchen
Description: Make, create, design, decorate cakes
Certifications/Education: No formal education required. Degree in Culinary Arts highly recommended.
Necessary Skills: Knowledge of cakes, decorating techniques, creativity and design skills
Potential Employers: Bakeries, Catering Companies, Self Employed
Pay: $10 to $26 per hour or $20,000 to $50,000 per year.
Helpful Cake Decorator Employment Links:
Search Cake Decorator Jobs on JobMonkey
Wilton School
Cake Decorators School and Supplies
International Cake Exploration Society
American Cake Decorating
Cake Boss