Florist Jobs
Become a Flower Arranger
The beautiful colors and wonderful aromas of flowers are lovely. They are everywhere and are a multi-million dollar industry. Every time you see flowers on display you are seeing the creative work of a floral designer.
Floral designers, often called florists, create arrangements of flowers. They use both real and artificial flowers along with other greenery to create displays of flowers for all sorts of events – weddings, Valentine's Day, Mother's Day, proms, catered events, funerals, hospital visits, birthdays, babies, hospital visits, anniversaries, or holidays.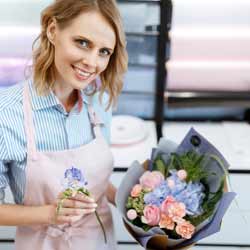 Carnations, violets, lilacs, tulips, orchids, daisies, roses, sunflowers, and larkspur are just some of the flowers that floral designers use in their arrangements. Every flower has a unique color, design, availability, and meaning. Floral designers know all about flowers and can help design arrangements for any situation – roses for anniversaries or tulips for birthdays. A professional floral arrangement will burst with color and bring life to a room.
Floral designers create floral arrangements to serve their customer's needs. A typical day includes talking with a customer and then filling the orders. A large portion of the florist's work is custom orders.
Flowers must always be fresh. Florists are constantly receiving and arranging flowers. They need to know which flowers are seasonal or are limited in availability. They are aware of the rush times and are sure they have enough roses, daisies, or carnations in stock. Florists are super busy and non-stop during times like Valentine's Day or Mother's Day. But during the slow times a florist stops and smells the roses.
Florists have a good eye for colors, shapes, and proportion. They are able to select flowers, ribbons, and containers to make beautiful arrangements. They are knowledgeable about flowers, design forms, and techniques. They use the utmost care in handling flowers and cutting stems. They must sort flowers by color and type. They need to be able to create stunning bouquets, dazzling wreaths, spectacular vases, charming baskets, gorgeous corsages, or eye-catching custom arrangements.
Florists work with flowers all day every day. It's a nice atmosphere – fresh air, pleasant smells, and vivid colors surround their workplace. Most floral designers work in floral shops, grocery stores, or Internet sites that send flowers. Some floral designers work outdoors at gardens. Florists can apply directly to these places to find work or try an Internet search to find jobs in your area.
Florists do not need any formal flower education. All they truly need is a passion for flowers and a sense of design. Most florists learn the trade by growing and working with their own flowers, or maybe had a flower farming job, attended floral schools, took courses, or worked with other florists to learn the tricks of the trade.
After gaining floral experience, many florists gain a certification from the American Institute of Floral Designers (AIFD). The AIFD has an accredited certification exam that tests both floral terminology and the ability to complete floral arrangements for funerals, tables, weddings, clothing, and a floral arrangement of choice on site. Certification is not required, but is nice for professional development. The average annual salary for a floral designer is $23,610 per annum, according to the Bureau of Labor Statistics. The top 10 percent of workers in the field earn approximately $35,000 per year.
Floral designers have a fresh, fun job. Flowers bring smiles to everyone's face. Take a look around and see how many flowers you see today. Next time you buy a romantic bouquet of flowers or find yourself awed by a beautiful floral arrangement, remember it's all the hard work of a floral designer.
Quick Facts About Working as a Florist
Job Title: Floral Designer or Florist
Office: Floral Shops
Description: Create arrangements of real and artificial flowers for clients and events
Certifications/Education: No formal education required.
Necessary Skills: Eye for colors, Knowledge of flowers, Communication skills, Sense of design
Potential Employers: Florists, Grocery Stores, Independent work
Pay: $16,000-$35,000 per year; $8.14-17.23 per hour
Helpful Florist Employment Links:
Search Florist Jobs on JobMonkey
American Institute of Floral Designers
Society of American Florists
List of Floral Design Schools
FloristDex's Types of Flowers
The Language of Flowers