Shipboard Disc Jockey Jobs
Do you have an affinity for music? Perhaps your friends are always telling you to make mixes or plan the music for their parties. You might even know a lot about music from other generations or have thought seriously about becoming a disc jockey for clubs and bars. Or, maybe you already are a disc jockey and you're looking for new and challenging experiences with the opportunity for travel.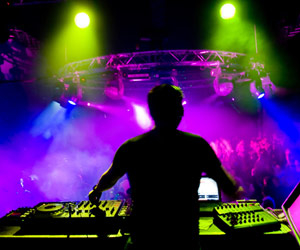 If this is the case, we don't have to tell you that one of the most exciting and rewarding music industry jobs is that of a disc jockey. Disc jockeys or DJs play music and create sounds for social events spanning from weddings to birthdays to nightclubs. What you might not know is that a disc jockey job is also a crucial position in the activities and entertainment staff department onboard a cruise ship.
Cruise ships are all about social events. Dances, casinos, onboard bars and even poolside social events can all use a little background music. The onboard disc jockey is responsible for creating and providing music to onboard guests at social events just like those described above. They are responsible for working with onboard performers and AV teams as well as working independently to bring good music to events on the ship that cannot accommodate a live band. Cruise ship disc jockeys will take requests from guests, put together play lists and help keep the mood onboard the ship uplifted and enthusiastic. While a number of the job requirements and responsibilities for disc jockeys on a cruise ship are the same as those for a DJ in a club, there are a couple of differences that make an onboard disc jockey or music job on a cruise ship stand out.
Cruise lines like their disc jockeys to have a broad music base to span the generations of their clientele. Experience in a hospitality position will increase a disc jockey's marketability because of the necessity to socialize gracefully with passengers.
Experience with lighting and sound is a big asset as well for those applying for a cruise ship disc jockey position. Some cruise ship disc jockeys will also work closely with the stage manager in assisting with show production and onboard entertainment. Being a disc jockey onboard a cruise ship is often times more demanding than other music industry or disc jockey jobs. It can also, however, be much more rewarding. Cruise ship disc jockeys may make anywhere from $1,700-$2,400 a month depending on experience and the duration of their contract. They also have the added bonus of attending the most fun and social events onboard the cruise ship and typically enjoy time off while the ship is at port. While most contracts are generally six months and the pay salary-based, there are sometimes exceptions.
Onboard disc jockey jobs are often competitive and difficult to obtain but they are also one of the best travel and music industry jobs available. Although it might take a number of interviews to find an open position, they are easily considered one of the best cruise staff positions onboard.