Sports Journalism Jobs: Jobs and Careers in Sports Broadcasting – Radio, Television and Internet
"It has nothing to do with ability, nothing to do with talent; that's the problem. It's all about timing and luck." Warner Fusselle, play-by-play announcer of Major League Baseball, is attributed with this remark by author David Fischer. He was talking about getting a job in sports broadcasting.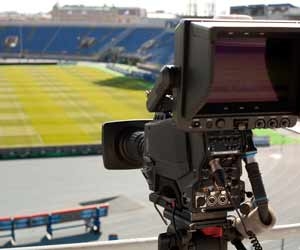 Bill O'Mara was in luck, being a Sportscaster when television began. He had started out in sports announcing on radio in 1939, in the Midwest. When the Gold Cup hydroplane race came to Seattle, he was there to cover it live on KING5 TV. In the 1951 powerboat race, the hydroplane Quicksilver crashed, totally disintegrated and sank to the bottom of Lake Washington, taking driver Orth Mathiot and race mechanic Thom Whittaker with her. O'Mara fell to his knees and uttered the Lord's Prayer on live television. Kay McFadden of the Seattle Times recalls, ". . . newscasters still looked and acted like regular people instead of gorgeous, implacable mannequins."
List of Broadcasting Employers Now Hiring
Maybe that's because Bill O'Mara is "regular people." Previously known as Bill Rhodes, he changed his name when his sponsor was the Bon Marche', now part of the Macy's store chain. The Bon's competitor in Seattle was Rhodes Department Store. From the very start, TV, like professional sports, was a commercial enterprise. On the other hand, O'Mara is a sports fan – the prime qualification for a sports broadcaster! Announcing the hydroplane races in Seattle, he would get so excited, fans had to keep their eyes glued to the TV, to follow what he was talking about. One race day, he was on his way to the lake when he collided with another car at an intersection near home. The driver of the other car could neither hear nor speak. Bill was frantically shouting, waving his arms, trying to explain that he had to get to the race on time. Finally, a neighbor who knew American Sign Language stepped in and got the needed information from both parties. Bill was on time for the hydro race start. Showing, again, that communication of all kinds is important.
In college football, conferences and teams often align with a sports properties management company to manage the teams' licensing, merchandising, publications and special events. Regional networks or ESPN have TV rights for the Conferences; for instance the Pac-12 Properties TV partner is FOX Sports Net.
CSTV (part of CBS) produces coverage of more than 35 men's and women's sports through Comcast and other cable systems, and on DirecTV and DISH Network. In addition to cable, broadcast and satellite TV and radio, the sports programs go to pay-per-view, airlines in-flight entertainment and wireless networks. The website at www.CSTV.com and 250 official college websites associated with it offer college sports broadband news, information, scores, commentary and analysis.
The Big Ten Conference is also now in the television sports business as a part owner. The Conference basketball and football games are broadcast under agreements with several networks. The Big Ten joined with Fox Cable Networks to start a Big Ten Sports Network in 2007. The network broadcasts a number of men's and women's sports.
Right now, ESPN produces over many thousands of hours a year of sports programming, covering dozens of sports – MLB, NBA, NFL, WNBA, college football, men's and women's college basketball, tennis, PGA, LPGA, the Little League World Series, the X-Games and the Great Outdoor Games.
Sports fans, if you can communicate, you can be there – making money, too! There are a variety of opportunities in television, radio and internet broadcasting.
Sportscaster is a name generally applied to on-air (or streaming audio/visual) broadcasters, originally applied to sports news reporters. Sports announcing has grown up since Harold Arlin described the moment-to-moment action of a Pittsburgh Pirates National League ballgame in 1921. Now, announcers are expected to be right on top of the game, and they're teamed up with color commentators – former players, often, these sportscasters know all the stats and all the gossip to back them up. In radio, veteran sportscasters are teamed with rookie co-hosts, opening new doors into the career. Sports talk show hosts are another way up for sportscasters who can start a good conversation, get fans involved and think fast.
Linda Cohn was doing the play-by-play for the Women's National Basketball Association (WNBA) on ESPN and ESPN2, and did ABC's broadcast of the WNBA All-Star Game and Finals. Prior to this, she's done play-by-play announcing of LPGA golf. She's excited: "Basketball, let's face it, is one of the four major sports!" In sports news announcing for over 50 years, the late Jim McKay hoped that he's helped people take the coverage of sport more seriously. "I mean a serious thing rather than just simply hyping sports," he told Andrew Marchand of the New York Post. "In other words, to report the way you would report the news."
Here's a sampling of the different kinds of jobs out there right now for sports journalists in broadcasting:
Sports News Radio Reporter Jobs
This is an Anchor spot for a drive-time sports radio program. The reporter's job is to cover local sports and attend press conferences, report on the air, do interviews and more. Some segment production is also required. The person in this job may also end up hosting sports programs and anchoring daily newscasts. Candidates typically need at least one year of on-air experience to get a shot at these sports jobs (which you could get at a college station or internship).
Associate Producer/Shooter Jobs
This job involves research, set-up, shooting, interviewing, writing, formatting and supervising the editing of video pieces around one to six minutes in length. Must haves: "Excellent sports knowledge, good interpersonal skills and prior experience producing and shooting." One other thing: "Own camera a plus."
Sports Photographer Jobs
This is a news photographer (or videographer) position, and you have to be able to shoot and edit videotape under deadline pressure. It includes shooting sports. Expect to work nights, weekends and shift relief on short notice. What they're looking for: "An experienced self-starter with a creative eye. . . Knowledge of this market is a plus."
Talent Director Jobs
This is a job for somebody with five years of experience in sports television talent searching, coordination, negotiation and scheduling; with a broad network of contacts in broadcast talent firms, agents and representatives; and with excellent skills in communication and organization. These are some of the things you'll handle in a talent director job:
relationships among athletes, play-by-play announcers, color analysts, talent agents and publicists
prospective on-air talent
contracted talent
talent – producers liaison
talent time off, compensation, travel and logistics
celebrity appearances and guest assignments
talent negotiations and deals
contacts for music, wardrobe, movie clips, etc.
talent involvement & schedules for SCTV special events…
While some people would say that watching golf is boring, fans of the game obviously disagree. "Amen Corner Live," a streaming online video of a recent Masters golf tournament, attracted 3.4 million viewers – for an average viewing time of over two hours each – on masters.org and CBSSportsline.com.
Years ago TVNEWSDAY asked Roger Ogden, President and CEO of the Gannett 21-station TV business, how he saw the future of TV developing. He correctly envisioned a multifaceted business of duopolies, digital multicast channels, websites, broadband video-on-demand and more, with local TV stations at the center. The important thing to remember is that the message is more important than the medium. Norby Williamson, ESPN and ABC Sports Executive Vice President, laments the decision to retire of Broadcaster Keith Jackson, "the great narrator skillfully articulating the drama for a captivated audience."
There are a growing number of sports broadcasting opportunities due in large part to cable and satellite television, sports talk radio, and even internet broadcasting. You may have to cut your teeth with an off-air position at first, but if you're good, then it's definitely possible to get those coveted on-air sports broadcasting jobs.