Special Sporting Events and Athletic Venues Jobs Overview
Special Events require Special Venues. Rome had the Coliseum, and perhaps the events had to grow into that monumental arena.
When the Games and Combat weren't enough, Chariot Races brought on more horsepower. Still looking for more excitement on a grand scale, the Emperor had the sports facilities staff fill the place with water and bring in ships for a full-scale sea battle.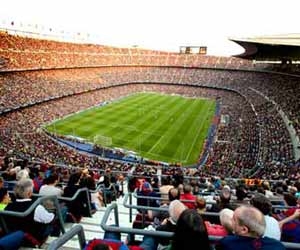 America's Coliseum in Los Angeles presented the XXIII Olympiad of the Modern Era in 1984, and it seemed like a perfect fit. Joan Benoit won the first-ever Olympic Women's Marathon, and Connie Carpenter-Phinney took gold in the first Women's Cycling Road Race there.
These are exciting and yes, special events that are themselves venues – the scene where athletes have the opportunity to excel. The place-venues and the event-venues together offer you many ways to take part in athletics and sports for love and for money.
Special Events come in all shapes and sizes, for the glory and the gold, from the Log Rolling World Championship to the Indianapolis 500. How about Competitive Eating?
The places where they happen are of all kinds too, from the open ocean surf to a ball park with a retractable roof.
Sports jobs range from Director General of the International Olympic Committee to coaches, pit crews, track and field officials, vendors and promoters. Volunteers are welcome at the smallest community summer fair and at the biggest sporting events in history alike.
Sports jobs in this industry sector can last one day, one week, a month or several months (a 'sports season').
Learn about these volunteer jobs, seasonal jobs, part-time and full-time openings in sports special events in the Sports Venue Jobs section, follow the Links page tips to get into the sports you like best, and be part of the scene. Parlay your experience into a better, full-time job in the sports industry. Resume builders are important.
You can also find detailed sports venue job information and sports job postings at SportsCareerFinder.com.