Health and Fitness Jobs – Related Education Programs
As mentioned on the previous page describing types of health and fitness careers, some jobs in the field require extensive education while others do not.
You can't be a sports physician or a sports psychologist without post-graduate education. You can get some health club jobs, however, with minimal training and education.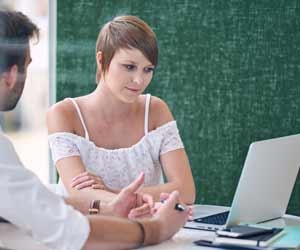 To provide a little guidance on the topic of profession-related education we have a compiled a list of schools and programs.
ATHLETIC TRAINER
Appropriate coursework for those in search of Athletic Trainer jobs often include these:
Human anatomy
Risk management and injury/illness prevention
Human physiology
Pathology of injury/illness
Assessment of injury/illness
Kinesiology/biomechanics
General medical conditions and disabilities
Nutrition Therapeutic modalities
Statistics and research design
Therapeutic exercise and rehabilitation
Strength training and reconditioning
Health care administration
Acute care of injury and illness
Weight management and body composition
Psychosocial intervention and referral
Medical ethics and legal issues
Pharmacology
Professional development and responsibilities
Programs accredited by the Commission on Accreditation of Athletic Training Education
Links to the full lists of accredited programs for entry-level undergraduate and graduate degrees; entry-level Masters Degree programs; and advanced Masters Degree programs, for students who are already certified can be found here. VISIT: https://www.caate.net/
PHYSICAL THERAPIST, MEDICAL ASSISTANT, SPORTS MEDICINE AID, ASSISTANT. ATHLETIC TRAINER, PHYSICAL THERAPY ASSISTANT.
American Physical Therapy Association (APTA)

Use the menus on the left side of this web page to go to Education, then to Student Resources – PT/PTA Programs and Scholarships/Aid for a full list of Physical Therapy and Physical Therapy Assistant accredited programs, updated continually. VISIT: www.apta.org

APTA Sports Physical Therapy Section (SPTS)

note: Membership in APTA and SPTS are required to gain access to information on education and other resources on this website. VISIT: www.spts.org
SPORTS MASSAGE THERAPIST
SPORTS AND FITNESS NUTRITIONIST
Degree programs in Sports Nutrition: https://www.scandpg.org/sports-nutrition-education-programs/
STRENGTH AND CONDITIONING COACH
Schools recognized by the National Strength and Conditioning Association are listed for Strength and Conditioning programs; Graduate Studies programs and Personal Training programs here: www.nsca-lift.org/ERP/schools.shtml
EXERCISE PHYSIOLOGIST
A Master's Degree is a must in this field. You should attend a college that allows interdisciplinary studies with a strong basis in science. Physical Education and computer technology are also important in the working world of sports science.
Thomson Peterson's links to schools that offer programs specifically in Exercise Physiology. Search their database for programs.