Cruise Ship Sports Jobs
Herman Melville wrote that when he felt like walking out into the street and knocking people's hats off, it was time for him to go to sea again. You don't have to wait until you're in that condition to dream of a life at sea. You can do it now, just because you want to.
Ambitious, adventurous people worldwide are enjoying the benefits of cruise jobs. It depends on the ship and itinerary but many large cruise ships hires yoga and aerobics instructors, golf teachers, skeet-shooting leaders, personal trainers, and so forth.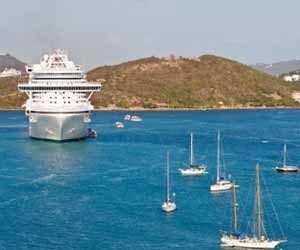 The biggest cruise line in the world (based on the number of passengers), Carnival Corporation and plc has around 6,000 fun jobs ashore and 77,000 aboard 100 ships. One of the fun jobs they are always recruiting for is Shipboard Golf Professional. Elite golf Cruises, LLC operates an Onboard Golf Academy, and wants teaching golf professionals.
The Shipboard Golf Pro teaches Cruise Line guests at all levels and runs the whole operation, including promotion, shore excursions and retail, as well as instruction. You get started with a three- to seven-day training cruise with an Elite Golf Pro, and two days of training at Fort Lauderdale, Florida. After that, you play golf, make money and travel – with your own cabin, "limited passenger status," three good meals a day with either staff or passengers, and medical. Income from commissions and tips average $250 to more than $1,000 per week.
After 140 years of cruising, Holland America Line's fleet grew to 15 ships in 2015, with the new Pinnacle-class MS Koningsdam (delivery in February 2016) will carry 2,650 passengers. "Welcome on board," they say, "represents the spirit that inspires our entire company. . . There may be more than one thousand job titles at Holland America Line, but all of us have the same goal – to be the world's best hosts." They may all be "hosts," but they're not all hotel managers.
Here are the kind of things an Assistant Cruise Director does:
Organize outdoor activities like volleyball and basketball games.
Host games and parties.
Be the DJ in the ship nightclub.
Youth Program Directors and Youth Staff create daily activities especially for each age group for kids ages 3 to 17. The jobs are usually six-month terms, but there are seasonal jobs for shorter periods during Spring Break, Summer Vacation and Holidays.
Here are some of the activities you could create for kids and teens:
Sport Tournaments
Face and T-Shirt Painting
Trivia Contests
Pajama Parties, Pool Parties, Dance Parties, More Parties!
Now here is a far out role – Island Relief Manager for the Disney Cruise Line.
You must be willing to live on Disney's tropical island, Castaway Cay, in the Bahamas. If you're okay with that, read on.
The Island Relief Manager relieves the Island Custodial Manager and the Recreational Manager for six weeks each. Leading and managing the Island Crew is up to this person. Upkeep of the island, creating work schedules and assignments, and managing Wardrobe are parts of the job. The Recreation Manager role involves overseeing recreation operations and life guarding, rentals of snorkels, floats, watercraft, etc.
See the Recreation Sports Links page for good leads to these and more great jobs at sea in Recreation, Sports and many other fun activities.
Learn more about cruise ship jobs and other cruise line industry employment opportunities at the JobMonkey Cruise Lines Jobs Section.
And find yourself at sea or on land in a fun cruise line job at Cruise Job Finder (www.CruiseJobFinder.com).