Sports Journalism Jobs: Magazines Writing & Photographer Jobs
While newspapers struggle, magazines are doing very well. "Mr. Magazine," journalism professor Samir Husni at the University of Mississippi, reports that 56 new titles hit the newsstands in January of 2010.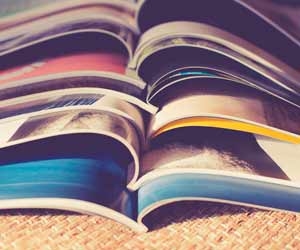 Thousands of jobs and freelance markets are there for talented sportswriters and sports photographers. More men and women who love sports and know how to handle words and pictures are needed on staff as editors, associate editors, photo editors, proofreaders, copy editors, managing editors and interns.
Magazine publishers have also discovered that they can actually make money in the "new media" with websites, online publications, podcasts, blogs and more – for which they need more journalists.
"This is every boy's dream," writes Richard Hoffer in a recent issue of Sports Illustrated magazine. He's talking about Joe Jurevicius, a home-town boy who played in front of his family and friends for the Cleveland Browns in 2006. What's your dream? How about a job like Hoffer's, interviewing the kid "who'd watch the Browns on TV in your parents' garage, the door open to simulate stadium seating in 20° weather" when he becomes a Brown?
How about test driving a new Ferrari before anybody else has even seen it? Road & Track might be your speed! Like a fast-paced work environment? Get on the editorial staff of a magazine like AutoWeek. If you want to be a sports journalist in "new media," try the new online-only publication, Winding Road magazine. (See the Sports Journalism, Websites and Online Publications page for this and other opportunities to work online.)
Scuba Diving can send you to an exotic island in the Pacific to dive where no man or woman has gone before; Sports Illustrated needs people to cover the Superbowl. Even men's magazines, women's magazines and general-interest magazines want to meet the athletes who represent their countries in the Olympics.
This is just a sampling of the sports magazines looking for full-time staff and contract writers:
Archery Business
Baseball America
Baseball Digest
Billiards
Bowlers Journal
Bowling Center Management
Climbing
Competitor Magazine
ESPN The Magazine
Fitness Management
Football Digest
Idea Fitness Journal
Martial Arts Professional
Muscle And Fitness
Outside
Parachutist
Powersports Business
Racquet Sports Industry
Racquetball
Referee
Rocky Mountain Sports
Runners World
SG Surf Snow Skate Girl
Silent Sports
Smackdown
Soccer America
Sporting News
Tennis
Tennis Week
Track And Field
International Journal of Sports Marketing & Sponsorship
The Sporting News
Sports Afield
Sports Illustrated For Kids
Sports Illustrated
This publisher of a huge directory of all media has links to many magazine websites, available free online: Gebbie Press
If you're a writer and/or a photographer, you can work for the magazines you like to read. The first step is to become very familiar with the publication, cover to cover, including the features, departments, editorials and even the advertisers.
The other important thing is to produce work in the style that the publisher and editors like. Newspapers report in the style of the Associated Press (AP). The format is an inverted pyramid, working from the headline to the important news, down to the details and sidelights. If the editor has to shorten your article, he'll simply cut the bottom off. Magazines, on the other hand, can tell a story in depth with a 3,000-word feature, and show it with a multi-page photo layout. This kind of journalism takes research, interviews and story-telling ability. You need to find the story behind the story. You have to get the one picture that twenty other photographers will miss in the same moment.
To get a good start in magazine sports journalism, get through college. Along with some sports and athletics education, definitely study communications. An Associate Degree is a must, and a Bachelor's Degree is required for many positions. The best major is journalism, or at least some form of writing degree. Journalism Degrees are offered by colleges and universities all over the country, and some, such as the University of Texas, have degree programs specifically in Sports Journalism. The UT program is open to 18 students who are journalism majors in broadcast, print, photojournalism or multimedia, and the instructor is a professional writer, editor, broadcaster or photographer who works in sports coverage.
Sportswriters average over $58,000 per year in magazine staff positions. Editors generally make more than this, once they get beyond an entry-level editing position, and can make around $60,000 to $75,000.
PRIMEDIA / Action Sports Group is an example of a publisher of several different magazines. Here's a sample of a staff job there, as a Copy Editor for Surfer Magazine. These are the job duties of a copy editor:
Read and edit all manuscript copy on a daily basis.
Contact appropriate personnel, both internally and externally, to determine the accuracy of the manuscript and to research the factual information.
Track the flow of copy through the Editorial and Art Departments, notifying the appropriate personnel of the status of the copy. Break down the story envelopes and input the ad indexes.
Input manuscripts and statistical charts, on an occasional basis.
Interact with staff writers to implement or recommend changes to the copy and to clarify any uncertainties about the manuscript.
A Bachelor's Degree is needed, preferably in English or Journalism. Previous experience in copyediting, preferably with a monthly publication, is required. Definitely don't miss our freelance writing jobs material in a separate section of JobMonkey.
Human Kinetics is a publisher in the physical activity field. Their readers include teachers, coaches, researchers, sports participants and fitness enthusiasts. The company is employee-owned and pays well. Opportunities for advancement are good. Benefits? How about a fitness facility, on-site massage and a subsidized cafeteria in their Champaign, Illinois headquarters? With a Bachelor's Degree and three to five years experience, you could apply for one of these positions:
Journal Division Director
Book Acquisition Editor
Assistant Book Acquisition Editor
Developmental Editor
Journal Managing Editor
Their job page online is at https://www.humankinetics.com/careers/.
There are dozens and dozens of sports magazines. Contact the ones that interest you, especially for contract or freelance writing jobs.