Sports Careers: Sports and Athletics Education Programs
Many schools, colleges, universities and associations offer educational opportunities that can lead to and advance your career in athletics. Here are some good places to start, for whatever specialized field your athletics career path leads you into.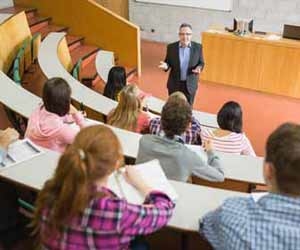 VOCATIONS EDUCATION IN SPORTS AND ATHLETICS
The J. Everett Light Career Center in Indianapolis, Indiana has one-year vocational programs that apply to Athletic Trainers, Physical Therapist, Sports Journalist and others. You can learn about their courses online, under "Secondary Programs." See: www.jelcc.com
Or you can find their Adult Education Courses here, including Aquatics, Recreational Fitness and Athletics, Health and Photography.
SPORTS JOURNALISM
The Freedom Forum-NCAA Sports-Journalism Scholarship Program grants $3,000 scholarships to college juniors through the NCAA, in Sports Journalism: www.ncaa.org/
The University of Texas at Austin has a top sports journalism program.
Penn State University's College of Communications has a Center for Sports Journalism, which offers undergraduate courses in Sports Writing, Sports Broadcasting, Sports Information and Sport and Society. The Center also supports internships at newspapers, magazines, electronic media, the student-run newspaper, the Sports Information Office and campus radio: www.psu.edu
SPORT MANAGEMENT
North American Society for Sport Management (NASSM) (www.nassm .com/InfoAbout/SportMgmtPrograms)
NASSM maintains a list of universities that offer sport management programs in these countries:
United States
Canada
Europe
Australia
New Zealand
SPORTS MASTER'S DEGREES
Seattle University offers a Master in Sport Administration and Leadership (MSAL). Having a Master's degree like this will definitely help you get a job in athletics. The Seattle University MSAL program familiarizes students with all aspects of the field and prepares students to be sport industry leaders in the following categories:
Professional sports (league offices, player union offices, team offices)
Olympic sports (national governing bodies)
Intercollegiate sports (NCAA, university athletic departments)
Interscholastic sports (state associations, high schools)
Youth sports (civic and private agencies)
Sport support services (sponsorship, merchandising, representation)
Sport venues (facility management, event management)
Sport media services (broadcasting, film, halls of fame, museums).
This new Seattle University program is a continuation of the graduate Sport Administration program at Seattle Pacific University. Examples of jobs held by graduates of that Masters program include these:
Athletic Director
Assistant Athletic Director
Assistant Sports Information Director
Associate Athletic Director
Associate Dean
Associate Director
Business Owner
Director of Communication
Director of Development
Director of Operations
Director of Public Relations
Director of Programs
Director of Sales
Director of Facilities
Executive Director
Legislative Services Associate
Marketing Associate
Sales Executive
Sports Reporter
Strength and Conditioning Coach
Principal
Founding Professor Dan Tripps says, "The curriculum and instruction in the MSAL program is designed to prepare graduates not only to work in the world of sports but also to have the commitment and capability to help make that world more just, ethical and humane." The faculty will include area sports professionals with advanced degrees and experience teaching graduate-level programs."
Many colleges and universities around the country offer undergraduate and graduate degrees — or at least coursework — related to athletics.
One recently launched Master's in Intercollegiate Athletic Leadership program includes education in these areas: Budgeting, Finance, & Sports Administration Skills; Colleges, Sport, & Society; and Leadership Development.
Students will work in internships and develop portfolios in addition to the coursework. Sound like fun? Your internship could have you working in the college's athletic department, gaining exposure to Marketing and Promotions, Health and Conditioning, Event Planning, Ticketing, Public Relations, Fundraising, Budget Planning, Facilities Management, Student Athlete Academic Welfare, Compliance, Management of People and Human Resources, and Media. Programs such as this one typically last two years.
The United States Sports Academy offers Continuing Education and Bachelor's, Master's and Doctoral degrees. This is an independent, non-profit, accredited institution. Visit the website for information on all the programs and resources available there.
HEALTH AND FITNESS PROGRAMS
Athletic Trainer Jobs
National Athletic Trainers Association:
Programs accredited by the Commission on Accreditation of Athletic Training Education (CAAJE) and links to the full lists of accredited programs for entry-level undergraduate and graduate degrees; entry-level Masters Degree programs; and advanced Masters Degree programs, for students who are already certified are here: https://www.caate.net/
Physical Therapist, Medical Assistant, Sports Medicine Aid, Assistant Athletic Trainer, Physical Therapy Assistant Education
Use the menus on the left side of this web page to go to Education, then to Student Resources – PT/PTA Programs and Scholarships/Aid for a full list of Physical Therapy and Physical Therapy Assistant accredited programs, updated continually.
American Physical Therapy Association (APTA):
Sports Physical Therapy Section (SPTS)
Membership in both APTA and SPTS is required to gain access to information on education and other resources on this website: www.spts.org
Sports Massage Therapist
American Massage Therapy Association
For a complete list of massage therapy schools and tips for choosing the program for you: www.amtamassage.org/students.html
Sports and Fitness Nutritionist
Degree programs in Sports Nutrition: https://www.scandpg.org/sports-nutrition-education-programs/
Strength and Conditioning Coach
Schools recognized by the National Strength and Conditioning Association are listed here for Strength and Conditioning programs; Graduate Studies programs and Personal Training programs: www.nsca-lift.org/ERP/schools.shtml
Exercise Physiologist Jobs
A Master's Degree is a must in this field. You should attend a college that allows interdisciplinary studies with a strong basis in science. Physical Education and computer technology are also important in the working world of sports science.
Search Thomson Peterson's database for schools that offer a program in exercise physiology.