Jobs in a College Athletic Department
The National Collegiate Athletic Association (NCAA) is an organization of colleges, universities and conferences that is ruled by its members. About 350 paid professionals work in the national headquarters in Indianapolis, Indiana. The vast majority of sports jobs or athletic jobs are working directly in intercollegiate athletics.
ATHLETIC DEPARTMENT STRUCTURE
The kinds of jobs in college-level athletics vary among schools of different sizes and types, as do the very structures of the athletic departments in those schools. Sports and sports jobs change over time, as well.
It's quite common for large college athletic departments to be self-funded, meaning that they rely on profits from ticket sales and television revenue, for instance, to fund scholarships, facility improvements, capital projects, and operations. While the athletic department is part of the University and it's staff 'University employees' the buildings are often off-campus and the department run as its own business. Much of the money to run the sports business comes from the major sports of football and sometimes basketball.
On the coaching side of things, the NCAA puts limits on the number of coaches and unpaid 'graduate assistants' that each sport can have on staff.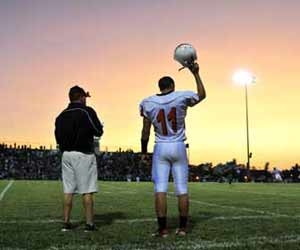 This helps level the playing field among institutions. Beyond coaching most athletic departments employ academic counselors, facilities operations staff, ticket sales and athletics marketing and promotions staff, rules compliance officials, communications and publications specialists, administrative staff, financial specialists, media relations staff (Sports Information Director), student interns, and others. The compliance office alone, in a major university, may have four to five staffers: a director, admin assistant, someone in charge of educating department staff, and someone who does monitoring.
What this illustrates is the fact that a career in college athletics is possible! There are opportunities a most colleges and universities, and the larger the school the more sports jobs you can pursue. Pay is sometimes determined by the University's salary structure, but typically there's more flexibility for paying coaches. In addition to decent pay most universities offer excellent benefits packages.
You'll also find a pretty clear career ladder inside an athletic department. The ability to move around, from institution to institution, is tremendous. Can't get a compliance job at one school? Wait for an opening at another, apply, interview…move! Once you get your foot in the athletics department door your chances of remaining employed long-term are excellent.
The NCAA recognizes and supports the following Intercollegiate Sports & Championships:
COLLEGE SPORTS FOR WOMEN
Fall Sports
Cross Country
Field Hockey
Soccer
Volleyball
Winter Sports
Basketball
Bowling
Fencing
Gymnastics
Ice Hockey
Rifle
Skiing
Swimming & Diving
Indoor Track & Field
Spring Sports
Golf
Lacrosse
Rowing
Softball
Tennis
Outdoor Track & Field
Water Polo
Emerging Sports
These sports provide additional athletics opportunities for college women:
Archery
Badminton
Equestrian
Rugby
Squash
Synchronized Swimming
Team Handball
COLLEGE SPORTS FOR MEN
Fall Sports
Cross Country
Football
Soccer
Water Polo
Winter Sports
Basketball
Fencing
Gymnastics
Ice Hockey
Rifle
Skiing
Swimming & Diving
Indoor Track & Field
Wrestling
Spring Sports
Baseball
Golf
Lacrosse
Tennis
Outdoor Track & Field
Volleyball