Finding Radio & TV Jobs
So, now that you have a better understanding about what kinds of jobs you will find in the broadcast industry, you can start making your dreams a reality and embark on an exciting and lucrative career in TV or radio. While you have the basic jobs at your fingertips, there are tons more in this diverse and massive industry, so it is always recommended that you do a bit of research as to what area you want to work in. Learn where in the world you want to be based, and the type of salary you are looking to earn, and whether you want to work for a radio station, radio network, TV network, TV studio, production company, or recording studio.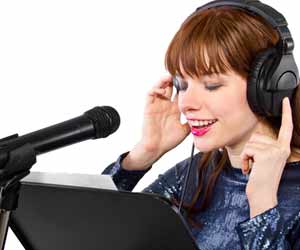 You have the option of working in television productions, radio shows, and other areas of the entertainment industry, which is very interesting and exciting. Don't forget that you also have the choice of being involved in the business side of things doing administrative, marketing, managing, finances, and IT. The variety of radio and TV jobs is endless and you can basically enter into this industry no matter what your profession. Your career in TV or radio can be anything – all types of people and skills are needed!
Finding Broadcast Industry Work
Finding radio and TV jobs will not be too difficult, but you will find that the criteria required is detailed. You will need to have very specific qualifications related to the type of radio and TV jobs you are applying for. You will also usually be asked for 3 or more years of experience in the related fields you apply for unless of course, you find an entry-level offer for a career in TV or radio.
With some entertainment industry jobs like acting, or being a DJ on the radio, you will have to keep auditioning and applying until you get your break. For acting, this can take a good many years. Sometimes it is essential to get a job as an assistant or receptionist even if this is not your career goal, just so that you can meet the right people to help you further your actual career in TV or radio. As that famous entertainment industry saying goes, "It's not what you know, it's who you know."
There is a lot that you will need to learn about the entertainment industry and broadcast industry before you apply for any radio and TV jobs. You must have intricate knowledge of how the entire industry is run. For TV, the best way to get insight into this is to join an agency as an extra where you will get paid for a day or two doing television productions as the background cast. You can really learn a lot from being on a set in studio or on location. Another great way to see the inner workings is to shadow a radio producer to see how the jobs in radio work. You can visit the studios and ask questions. Many colleges and high schools have these work experience programs, so you should take full advantage to learn more about radio shows and jobs in radio.
Aside from working on TV shows at a production company, you can shadow a network director or studio director to find out more about the business side of television productions and how the broadcast industry is run and managed. There are lots of opportunities for you to also get a summer job or work at these TV networks and studios in an internship for the experience. Search for student internships using this job board – see what's out there and learn about interning.
If you do a good job, there may even be a career in TV or radio waiting for you. Good luck on finding the best radio and TV jobs!