TV News Broadcast Jobs
If you have a keen sense of communication and enjoy reaching out to the public to inform them of goings on in their town, city or country, a job in TV journalism will be perfect for you. Becoming a television journalist has its perks and disappointments, but one thing that you can enjoy is a good salary if you train to become either a TV news anchor or TV news correspondent.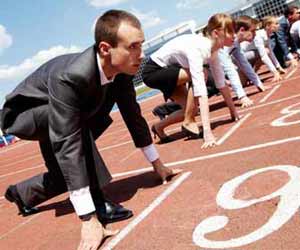 Both these news broadcast jobs will see you presenting the TV news live and working for one of the top TV networks.
TV News Anchor
Any television journalist will have the unique and important role of giving the public an accurate and informative view of the news in their area, and around the world. Most TV anchors are offered large amounts of money to secure their jobs at various TV networks, the more popular they become. As a TV news anchor, your job will be to present the domestic and international news live on TV and link to certain correspondents around the world. The benefits of being a news anchor are that you are based in one area and you have generally set working hours which is ideal if you have a family. You can enjoy a comfortable working environment and more time on air than a correspondent.
TV News Anchor Training:
The training you receive as a news anchor is varied, but a television journalist must have a degree in journalism, as well as communications, media and more. TV journalism also requires you to have a good voice and presenting skills. You will get training from some TV networks in presenting the news for TV, but you can also opt to take some voice training, presenting, or acting classes, to give you more confidence speaking live on TV.
How to Become a TV News Anchor:
To become a news anchor at a TV network, you will have to first start out as an assistant and work your way into becoming a correspondent. Once you have been doing a good job as a TV correspondent for a while, you can get promoted to TV anchor.
TV News Correspondent
The TV news correspondent has a highly interesting and sometimes stressful job depending on where you are based. You have to present a news broadcast insert live on TV in some very difficult conditions and you may even have to appear live on TV with no preparation and no script. You have to understand the situation you are in, and how to offer the public the best idea of what is going on in the shortest time possible. You could be placed at a fundraiser, in the middle of a war, in the African bush, at a sports event, or any other place where there is a great news story. Many times correspondents are flown out to a scene a few days before the news is expected to break, and must be on call 24 hours a day.
TV News Correspondent Training:
The training for a TV news correspondent will see you studying journalism, media, communications and more including presenting courses, voice courses, and public speaking will help as well. You have to have intricate knowledge of the current affairs and news stories in the country.
How to Become a TV News Correspondent:
To become a correspondent, you will have to apply for a job at a TV network in the news broadcast department. You may not necessarily get the job you want, but you can work your way up to get a correspondent position if you are dedicated and prove yourself.
TV Journalism Salaries
To get a job in TV news broadcast departments at any TV network, you will be able to earn a very good salary even if you work for a small network or studio. The smaller networks will pay TV news correspondents about $40,000, while TV news anchors will earn between $70,000 and $120,000 at the small networks.
The larger networks that employ some of the top TV journalists are willing to offer the top salaries as well. You can expect to receive in the region of $150,000 if you are a news correspondent and as a news anchor you can basically ask for any salary you want. The famous news anchors earn in the millions of dollars.
The salary for TV news anchors and correspondents will also include a car and gas allowance and may even include a cell phone contract depending on the terms you can negotiate with the TV network. When you start out your TV job in the news broadcast department and you work your way up, you should hire a publicist or manager to handle all of your contract details and requirements.
Online News Broadcasts
As so many people move their business online, harnessing the power of the internet makes so much more sense for TV channels that want to broadcast live news feeds and broadcasts via the World Wide Web. Online news broadcasts are making sure that more and more talented and qualified TV journalists have jobs. It also allows smaller companies ad networks to break into the TV industry and be heard. They can set themselves up to offer world news, news that is specific to a community or city, country news or online news regarding breaking stories and hot topics.
Online news can even employ presenters for news and weather reports and offer various jobs to gossip journalists in celebrity news shows. To get a job online you can simply contact the website or company that owns the website. There are hundreds, but the best way to choose one that will give you the best salary and exposure will be to find out which of the online news stations are listed in the top of major search engines like Google and Bing.
Once you have found your niche in the online news world, you can expand your horizons and approach bigger TV networks. The experience you will gain will be the main consideration even if the remuneration isn't very high at first. If you are struggling to find TV news jobs as an anchor, presenter, correspondent, or newsreader, you can always embrace the online news idea will full force and start your own TV channel, station or network online. You will need some backing and capital, but if you have the drive and expertise, you can really follow your dreams and make a lot of money in the process.