Working as a Podcaster
When you think about radio, one never takes into account the online world that we now live in and the prevalence of broadcasting opportunities that we can find on the internet.
Online radio and internet radio stations are popping up all over the world and the wonderful thing about these is that everything is done and can be done online. Each radio broadcast and live streaming radio session is handled independently most of the time, which is great news if you are looking for radio jobs online. You can even start your own work-at-home online radio show and create podcasts every day on your own.
For an internet radio station, you don't have to necessarily have a full production team and crew like at a local radio station. You have the chance to be your own sound engineer, DJ, producer, station manager, scriptwriter, and advertising executive in one. With your own radio show, you can talk about whatever you like and play whatever kind of music you like. Your live streaming radio can be a huge success with very little capital to start it off. You will soon find that a course in marketing and advertising will be helpful as well as voice over course.
Online radio jobs are ones that you generally make yourself, but now and again, you may find online radio stations looking for voice-over artists for various radio commercials that they want to produce for clients.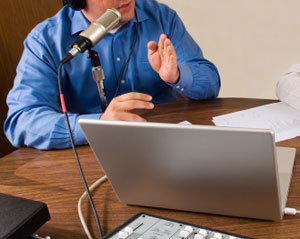 Sometimes they will even look for a great station manager to handle all of the admin, finances and corporate side of things. With podcasts taking the world by storm and giving ordinary people a voice, you can now be involved in online radio and find radio jobs online without any formal degree most of the time. Most of the radio jobs online will be freelance positions. Take note, if the Internet's your thing then consider blog writing jobs as a way to gain a presence online. Get in good with a blog owner and then offer to add a podcast or radio channel!
Podcasts are syndicated downloads meaning that instead of having live streaming radio online, you can download the radio show or online radio clip, interview or announcement that you are interested in hearing. The podcasts enable listeners to subscribe and the content will be automatically downloaded for them each time, which means that your radio jobs online just got a whole lot easier. Starting your own internet radio station is much easier as you can attract regular listeners for your radio show or radio broadcast.
Any radio broadcast that you create for online purposes can also be shared through the many video and audio file sharing websites. This will help to give you a much larger database of listeners and thus attract more and more people to advertise on your internet radio station. The radio jobs online are endless and you can set your own rates and salaries as you see fit running your own radio shows and podcasts over the internet.