Wardrobe, Hair, & Make Up Jobs
Being involved in television production may see you enjoying a TV job as a make up artist, hair stylist or working in the wardrobe department of a television studio. These roles are significant for TV shows and any live television broadcast. Most of the time, news anchors, presenters, and of course actors have to report to hair and make up as well as TV wardrobe before going into the studio or onto set.
TV Hair and Make Up Job Description
On the set of a TV show you will have a hair and make up department, where it is the job of the hair stylist for TV to ensure that you have the perfect looking hair, whether it is to groom it well, or to create the correct style for a period piece.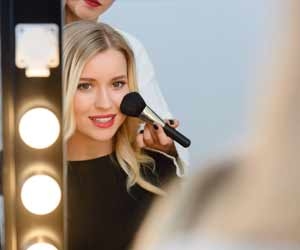 You can also get a job here as a television make up artist where you will correct any imperfections that will show up on camera, or create special effects make up, as well as natural looking make up for TV shows. The make up artist will also be responsible for taking photos of the actors to ensure that the make up and hair for each day of shooting remains consistent if needed. In the wardrobe department you will find the costumes for TV shows that will give the characters their look and also for presenters and news anchors to look professional at all times, always having something new to wear. If there is a period piece, it is the responsibility of the TV wardrobe to source the correct attire for the part.
Training Opportunities
There are many places where you can train to be a make up artist and most make up schools will also train you in doing bridal make up and other forms of make up art. A hair stylist for TV can train at a beauty school or college and can get experience working in a salon as an apprentice. The make up artist must know about anatomy, as well as lighting for a set. The wardrobe department will involve training in the fashion industry as you might be required to make clothing as well as source appropriate costumes for TV shows. You must have a good eye for colors and style and also an intricate knowledge of history regarding outfits.
For all of the above TV jobs, a course or certificate from a TV and film college will also be of great help.
How to Become a Make Up Artist, Hair Stylist, or Wardrobe Mistress
When you start in the TV industry, there are lots of places a new make up artists, TV wardrobe assistant, or hair stylist for TV can start. You should apply for positions at various casting agencies and production companies, even if it as the receptionist. Getting a foot in the door is what TV is all about. To start with, you might also need to volunteer for TV jobs to get more experience and a good portfolio. Hair and make up for TV will need you to produce a portfolio if you are applying for the relevant jobs in television.
If you are qualified for doing costumes for TV, you could also be asked for previous experience and examples of costumes you have designed and put together.
Salary
A salary for hair and make up TV jobs will all depend on your level of experience and at what production company you work for. Working for a studio doing television make up for news anchors and presenters will see you earning less, than if you work on large TV shows. A hair stylist for TV would get about the same as a make up artist, while the TV wardrobe would receive a salary based on the same factors. Your salary is calculated by a daily wage for TV productions, and monthly if you work at a TV network or full time at a studio.