Writing Jobs in the Entertainment Industry
Writing jobs are completely different from each other and writing radio copy requires a different technique and approach to writing a script for a TV series. If you are talented with words and are able to capture the essence of a story and bring it to life, then you will be a perfect scriptwriter for TV series and films.
If you can sell something with catchy phrasing and interesting choice of words, then you will make an excellent scriptwriter for sales.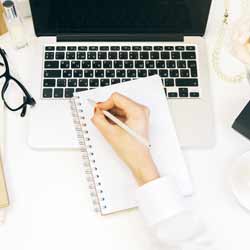 Many writers are able to write in all of the styles and want to know how to become a scriptwriter for the entertainment industry where their skills can be best used.
Copy Writers for Radio
Copy writers make the radio come to life and provoke thought with interesting radio copy for commercials and presentations. Radio copy is difficult to write, as you have to say as much as you can within a very short space of time, usually 30 seconds. Your radio ad scripts have to be catchy, fun and written in a specific way for radio so that a voice over artist can convey your message effectively for the listeners.
Radio ad scripts have to follow certain criteria and have to get to the point while at the same time being interesting. Many Jobs for Writers for the radio industry are available through production companies where the radio ads and presentations are recorded. You can either choose to work for the recording studio or production company, or you can get a scriptwriter job at the actual radio station.
Script writers for TV
TV requires a different approach to scriptwriting and you will have more opportunity to elaborate and explain. Depending on whether you are writing a script for a television commercial, the script for a TV series, or TV talk show script, you will use various techniques and writing styles. The script for a television commercial will be similar to radio copy, but you always have to consider the images that you now have. You can have the actors do more and say less, to get the message across, or you can use the same punchy script with strong images for effect.
When you learn how to become a scriptwriter, you will learn about how to write a script for a TV series. You will use less structure in your sentences, because people will be watching the actors, and you essentially have to write for them. On the other end of the scale, a TV talk show script will need to be filled with facts, funny comments, information, and accuracy, although it must still be written in a conversational way so that the talk show host is at ease with what he or she has to say.
Copy Writers / Script Writer Salaries
Copy writers and scriptwriters get paid salaries based on a number of things. One of the considering factors is whether you belong to a union or not. For radio, you can choose to get paid monthly, or you can work on a freelance basis for recording studios. A script for a TV series is paid per episode, while others are per project-based.