Political Scientist Careers
What do you know about government and politics? It's important stuff because the policies and practices of the government directly affect you. Luckily, political scientists are dedicated to studying this complex topic.
Political science is a form of social science that studies politics and government. It takes an honest look at how the government, politics, and policies work and how they directly affect the population. Politics is a large topic and in many ways it affects everyone, which means it deserves and needs to be studied by intelligent and curious people called political scientists.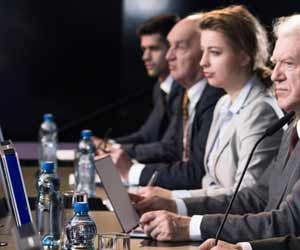 Political scientists focus their studies and research on political subjects, political systems, international relations, government theories, public policies, historical and current events, and ideologies. This research based job takes an in-depth look at policies on justice, economics, peace, health, defense, taxes, and other issues that directly affect you, including the role of government and government reform.
Typically political scientists choose to specialize in a niche like American politics, political theory, comparative politics, or international relations. This determines what their research may focus on and what they do on a daily basis. They might develop and test political theories, collect public opinion, analyze election results, evaluate the effectiveness of laws, research current events, predict political trends, create political forecasts, compare historical events with current events, look at international policies, or analyze government actions.
Based on their research, political scientists make decisions and formulate conclusions. Driven by a natural curiosity and an honest interest in the world and how it works, they write, report, and publish their findings. Their reports make recommendations, evaluate information, and influence public opinion. These insights can have a direct impact on public policy, political parties, and honest citizens. The research of a political scientist literally has the power to create change when their reports are written honestly, ethically, and in a timely fashion.
To become a political scientist, a college degree is required. There are some entry-level jobs available for people with bachelor degrees, but most political scientists need a Masters of Public Policy, Masters of Public Administration, or Masters of Political Science to climb the career ladder. Combine a degree with valuable internships and experience and you'll be on the right path to find a political scientist job.
A political scientist can wear many hats. They may work for a political party to help a candidate get re-elected, perform a nationwide study to determine why people vote or don't vote, publish research papers or write books on why a system of government does not work, teach university students about the nuances of democracies vs. republics, or advise a congressman on economic policy reform. There are many different paths for a political scientist to pursue.
Universities, colleges, and government agencies employ the majority of political scientists, but there are also opportunities with PR firms, think tanks, research institutes, political organizations, labor unions, and lobbying groups. Since politics has a global impact, there are jobs both at home and abroad.
According to the BLS, political scientists make approximately $102,000 per year or $49.04 per hour. Currently, there are almost 7,000 political scientists working in the US. It's a job niche that is expected to grow by 21% in the next few years.
If the world of politics, current events, and government piques your curiosity, why don't you pursue a career as a political scientist? It's a growing niche that pays well and it keeps you in the loop of what's going on in the world.
Quick Facts About Political Scientist Careers
Job Title: Political Scientist
Office: Office based
Description: Studies government and political issues
Certifications/Education: Bachelors or Masters degree
Necessary Skills: Natural curiosity, Political knowledge, Research skills
Potential Employers: Universities, PR Firms, Think Tanks, Government Agencies, Political Organizations, Lobbying Groups
Pay: $102,000 per year or $49.04 per hour
Helpful Political Scientist Employment Links: