Valet Jobs
Isn't it annoying when you arrive at your destination, you're ready to go, but you can't find parking? Parking is always a headache. It's something we would all choose to avoid if possible. Luckily, you can avoid parking when you utilize the services of a valet.
Valets park and retrieve people's cars for them. Valet parking is a service offered by high-end establishments like restaurants, clubs, hotels, resorts, airports, casinos, events, or malls. This guest service oriented job allows guests to arrive at their destination and avoid the hassle of parking the car. Then when they're done, the valet retrieves the car for them. It completely eliminates the headache of parking.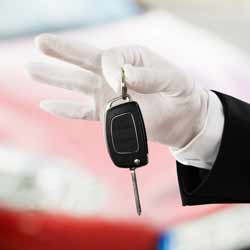 Sporting a spiffy uniform, valets work at valet podiums that are located in front of an establishment. When a guest arrives, it's the valet's job to greet them with a warm welcome. They may help open doors, unload luggage, provide directions, or assist the guest with other matters.
Once the guest is ready, the valet takes the keys and issues a valet ticket. At this point, the valet takes responsibility of the car, drives off, and parks it in an appropriate spot. They will drive all sorts of cars and must be comfortable driving both manual and automatic vehicles. It's pretty fun to drive a Lamborghini or a BMW, even if it's just to park it. Just be sure not to scratch it!
Ultimately, valet parking saves parking space because valets can double or triple park cars. After the car is parked, the valet records the spot of the car and returns to the valet podium to securely store the keys until the driver returns. Valets may also provide vehicle services such as oil changes, detailing, or car washes, but this extra service depends on the establishment.
When the guest returns to the valet podium with their valet ticket, the valet rushes off to get their vehicle from the parking area. When the car returns to the valet podium, the valet helps the guest settle their bill if necessary. Many establishments offer complimentary valet parking, but others charge per visit or per hour. Finally, the valet helps to load the vehicle and bids the guest a fond farewell. If all goes well, valets will often receive a tip for their prompt and courteous service.
To become a valet you must have a valid drivers license. Establishments that offer valet parking service will often do background checks and driving checks to ensure that they employ trustworthy safe valets. While valet parking is very common, there are horror stores about valets. Employers want to make sure that when valets drive guests's vehicles, there is no theft, damage, or joy riding – something you might have seen in a movie like Ferris Bueller's Day Off or Casino Royale.
Valets have an important job as they are often the first interaction guests have with a classy establishment. Offering valet parking services is a time saving luxury for guests and can create loyal customers. This is why many establishments are now offering valet service vs self-parking. There are tens of thousands of valet jobs in the US. Those valets make $10 to $18 per hour plus tips. Pay will depend on the location and the establishment.
Next time you see a valet service, give it a try to see what this cool job is all about. If you love cars and are an excellent driver, a valet job might be perfect for you.
Quick Facts About Valet Jobs
Job Title: Valets aka Parking Attendants
Office: Valet Podiums At High-End Establishments
Description: Park and Retrieve Cars For Guests
Certifications/Education: No Formal Training
Necessary Skills: Guest Service Oriented, Excellent Driver
Potential Employers: Establishments That Offer Valet Parking
Pay: $10 To $18 Per Hour Plus Tips
Helpful Valet Employment Links: