Reputation Manager Jobs
When was the last time you Googled yourself or your business? If its been awhile go ahead and type your name into a search engine and take a look at the results. What results are displayed on the first few search pages? What you see can either help or hurt your future.
Everything is on the Internet these days. The good, the bad, and the ugly all pop up in search results and on social media for the world to see. It's incredibly important to manage your online presence, but if you need help you can call in an online reputation manager.
Reputation mangers build, maintain, recover, and promote your online presence. They work with both companies and individuals to ensure their client's have a positive image online. Working with both social media and search engines, reputation managers ethically manipulate what information can easily be found.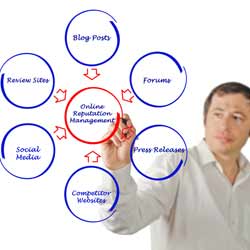 The job of a reputation manager is a mix of public relations and technology. They are personal branding experts who accentuate the positive and downplay the negative. For example, a CEO may want to highlight their company's charitable donations, but hide a decade-old mugshot. A reputation manager can help do this.
Everyone can benefit from a reputation manager's expertise. It's not just for CEOs, celebrities, politicians, and Fortune 500 companies. Job applicants, doctors, college applicants, small businesses, people with no online presence, and just about everyone can benefit from a reputation manager.
Many people try to boost their personal brand all by themselves, but it takes hard work. Especially if they are trying to hide lawsuits, an affair, DUIs, fines, or bad press. Any of these events can seriously hurt your personal brand and reputation. It takes an expert's touch to fix this.
Reputation Managers spend their days on the computer making these negative results disappear or at least not appear in the top search engine results. This is a constant project as Google and other search engines constantly change their algorithms for how search results are calculated.
To be successful in this niche, reputation managers do a variety of things such as implement SEO strategies, write blog posts, encourage positive reviews, answer complaints, ask negative info to be taken down, interpret feedback, remove social media images, boost posts and tweets, tag images correctly, focus advertising, and monitor forums. It's an ongoing process.
Unfortunately, reputation managers are often put in an ethical situation on how to hide disgraceful things. From falsifying reviews to dealing with Internet blackmail, reputation managers must do their best to promote ethical manipulation of search engine results. It's hard to control what's out there, which is why a reputation manager is an amazing asset. This is why it's easier to hire a reputation manager before a PR nightmare begins.
To become a reputation manager, you need a university degree in communications, marketing, advertising, public relations, or technology. Some colleges have reputation manager specialities. It's also wise to earn a certification or seek focused training from organizations like the Online Reputation Management Association or the International Association of Business Communicators.
Once you're ready, you can find jobs with reputation management firms, private companies, and with individuals. With the growth of technology, this niche is booming.
Reputation managers must be ready to fix online disasters as soon as they strike. That's why the best reputation managers can earn $5,000 to $20,000 a month! Not everyone makes this type of income, most reputation managers make between $31,000 and $95,000 per year with an average of $58,000 per year.
Ideally, to become a reputation manager you need to be a creative, social media savvy, PR guru who has experience building brands and be a master of search engine trickery. Plus, it's fun. The job of a reputation manager is in demand, why not make it your career?
Quick Facts About Reputation Manager Jobs
Job Title: Reputation Manager
Office: Computer Based
Description: Help individuals and businesses build, maintain, salvage, and promote their online reputation
Certifications/Education: Certifications available, Degree in PR, Marketing, Communications
Necessary Skills: Social media, SEO, PR
Potential Employers: Reputation management companies, Businesses, Individuals
Pay: $31,000 and $95,000 per year
Helpful Reputation Manager Employment Links: