Photojournalist Employment
When was the last time a picture captured your imagination? Do the images in Time, Outside, National Geographic, or Sports Illustrated grab your attention? Next time you see a visually appealing photo that captivates you, be sure to thank a photojournalist.
Photojournalists are visual storytellers who use defining images to report news. It's their job to take photos, write captions, edit images, and present them to the world. It's incredible how one image can summarize an entire, multi-page article. They always say that a photo is worth a thousand words. It's true, especially in photojournalism.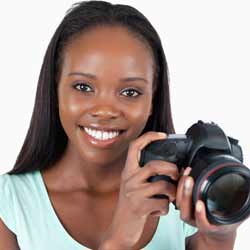 Photojournalism is considered a form of journalism, not photography, even though it blends the two together. Photojournalists are like reporters who see the story with a camera. Their images tell newsworthy stories such as the devastation left by a hurricane, the illicit drug trade in suburban Illinois, the receding glaciers in Alaska, a terrorist attack in the Middle East, the results of the Super Bowl, social unrest in Europe, life in war torn regions of Africa, or any other form of news. An image can often capture a situation in an appealing way that words cannot.
The images captured by photojournalists represent real life around the world. To take these photos, photojournalists have to travel to the remote regions of the world to experience culture, dangerous war zones, political races, social unrest, and emotional stories. They are always on call to head to the next story. It's their job to document the objects, events, and people of real life.
Photojournalists must ignore the dangers of the situation to capture accurate, timely images that tell the story. It's there job to photograph the subject in action, not staged. They must consider lighting, framing, editing, exposure, and picture quality with a critical eye and an ethical mindset.
In the era of digital photography, photojournalism is changing. Originally, photojournalism began during military conflicts. It was a way to bring war images to the masses. Today, photojournalism has expanded to all niches of life and helps to bring stories alive. With a camera, smartphone, and laptop, photojournalists can work from anywhere. Their mobile office can instantly brings images to armchair travelers and news reports within minutes of it happening. It's incredible.
To become a photojournalist, you need to have a degree in journalism, photojournalism, or photography. Your camera needs to be an extension of yourself and you need to see the world through the eyes of a reporter. To break into this multimedia niche, you need an online presence to help market your skills and talent. Besides being able to see the world through a camera lens, photojournalists must have working knowledge of editing and publishing software. They also need to have the right contacts to become successful.
Photojournalism is an important news niche. There are over 10,000 members of the National Press Photographers Association. All of who take great pride in being visual journalists. Most photojournalists are freelance workers with a flexible schedule. They may work on a contract basis or sell individual photos. Lucky photojournalists can find full time positions with newspapers, magazines, and websites. The majority of photojournalists make between $10 and $24 per hour or $42,000 per year. Pay depends on reputation, experience, marketing, story, location, and talent.
Photos tell stories in a unique way that is enjoyed by all. Do you think you can take visually stimulating press photos? Are you keen to travel the world in search of news and events? Do you have what it takes to be a reporter? Why not pursue a career as a photojournalist?
Quick Facts About Photojournalist Employment
Job Title:Photojournalist
Office: Traveling and in an office
Description: Photograph real life as a source for news
Certifications/Education: Journalism or Photography degree
Necessary Skills: Knowledge of photography, Reporter mentality
Potential Employers: Self-employed, Magazines, Newspapers, or Websites
Pay: $10 and $24 per hour or $42,000 per year
Helpful Photojouralist Employment Links: