Professional Mover Jobs
Look around you. How many things do you have? Your things really start to accumulate, especially when you start to invest in furniture – a necessity of life. What are you going to do if you have to move? You're probably going to call a mover. Movers pack, load, transport, unload, and unpack your possessions – sofas, refrigerators, family heirlooms, framed pictures, bicycles, televisions, desks, books, file cabinets, winter tires, and anything else you want to take with you when you relocate. It's hard work, but it has to get done.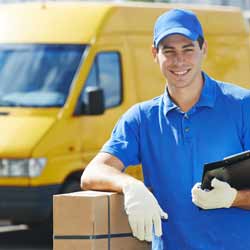 According to DMNews, 40 million people in the US relocate each year. That's 14.9% of the US population. They all need help getting their things from point A to point B. If they can't fit all of their things in the back of a Subaru or in a UHaul, the other option is to call in a professional mover. Whether you are relocating from one side of the street to the other, cross country, or out of the country a professional mover can provide the services you need.
Movers have a physically demanding job. It's labor intensive to carefully pack and move awkwardly shaped objects. They have to maneuver giant sofas, king size mattresses, and heavy dressers up and down stairs, through narrow hallways, and into their final positions. This requires strength and creativity to effectively move things in and out of homes and offices.
Besides just moving furniture, professional movers provide moving quotes based on the amount of furniture, distance, fuel costs, and number of workers. They often provide packing services or will store furniture for you. Sometimes they will disassemble and reassemble furniture. They have to safely maneuver, pack, and drive large moving trucks. It's a time consuming job that often allows the professional mover to travel to remote locations.
When moving big, heavy objects it's important to be safety conscious. Proper lifting techniques are of the utmost importance. The ability to carry and hold heavy objects for extended periods is important to make sure you can safely maneuver through homes with causing damage to the home or yourself.
It's easy to become a professional mover. It's a fantastic entry level job that has no education requirements. Movers can find both part time or full time work. There is more work in the summer as it is easier to move during that season, making it an ideal summer gig for college students.
Movers can find work with a moving company, a furniture store, or even by freelancing. A positive attitude, honest personality, the ability to carefully transport things, and enjoying physically demanding work are essential for this job. Many professional movers will even earn certifications like Certified Packer/Loader or Registered International Mover from the American Moving & Storage Association. This looks great on a resume.
Professional movers make $42,000 per year on average. Others are only paid for completed jobs. Being a mover is a great job because there will always be people who need help relocating or who need help moving heavy and awkward furniture to rearrange their home. There are opportunities everywhere.
Moving people's prized and personal possessions is hard work. Whether you are moving one bookcase or a mansion's worth of furniture, a professional mover is there to help you complete the job. From the first moving estimate to the final unloading, movers are constantly working.
Why not find your first moving gig today? Give it a try. If you like it, maybe it's time to switch jobs.
Quick Facts About Professional Mover Jobs
Job Title: Mover, Moving Man, Furniture Mover
Office: Homes and offices across the country
Description: Pack, Load, Transport, and Unload Things
Certifications/Education: None
Necessary Skills: Physically strong, positive attitude, safety conscious
Potential Employers: Moving companies, furniture stores, freelance
Pay: $42,000 per year
Helpful Professional Mover Employment Links: