Music Therapist Careers
What's your favorite type of music? Do you play an instrument? Are you a talented singer? Do you want music to be a part of your career? If you're considering a career in music, then consider becoming a music therapist.
Music therapists use music to help patients suffering from physical, psychological, cognitive, or social disorders. This health profession focuses on patient rehabilitation through listening, playing, singing, and moving to music. This unique form of rehabilitation is used worldwide with outstanding results.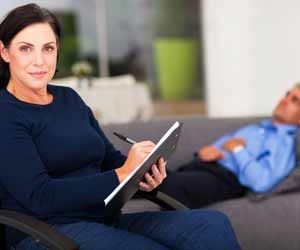 Music therapy should be considered a viable rehabilitation option for people of all ages. Working in a therapy team that includes doctors, nurses, family members, and other therapists, music therapists interact with a wide variety of patients. Those patients may suffer from Alzheimer's, substance abuse issues, brain injuries, developmental problems, or other issues. By utilizing the power of music, they can help their patients improve their communication skills, express themselves, generate self awareness, improve interactions, boost happiness levels, and more. It's amazing how much music can help.
When a music therapist meets a new patient, the first task is to assess the patient. Based on that assessment, the music therapist develops an individualized treatment plan that caters to the patient's issues. It requires patience and creativity to discover the best music therapy for each patient. Some options include learning the guitar, playing the piano, banging on the drums, listening to classical music or country tunes, participating in sing-a-long sessions, creating unique sounds, or even learning to dance.
Music therapy sessions could last a few months or for a lifetime – as long as progress is being made. It's a rewarding process to see how a patient changes when music is introduced into their lives. The beauty of music therapy is that each patient reacts and develops differently, which makes every day exciting.
To become a music therapist, you need to have a background in music. Since music therapy covers a large variety of musical options, you'll need to well versed in the entire music niche. You'll need to teach patients how to play different instruments, how to sing many genres of music, and even how to dance. Can you do that?
A music therapy career requires a bachelor's or master's degree in music therapy. There are approximately 70 colleges and universities in the US offering music therapy degrees. This four-year degree includes course work in therapy techniques, human development, music history and literature, functional piano, guitar, and voice, the psychology of music, and the influence of music on behavior. Plus, you'll need to complete courses in science and psychology.
Once coursework is complete, all aspiring music therapists must complete a clinical practicum lasting 1200 hours. This is a combination of fieldwork and internship to learn the ins and outs of music therapy under the guidance of an established music therapist.
The final step to becoming a music therapist is to become board certified in music therapy (MT-BC). Since 1986, thousands of music therapists have earned this certification. It's required if you want to practice music therapy. Some states also require a license.
Once educated and certified, it's time to find music therapy jobs. Typical employers include hospitals, rehabilitation centers, mental health centers, schools, retirement homes, nursing homes, and even daycare facilities. A happily employed music therapist can earn an annual salary of $24,000 to $56,000 per year. Pay and benefits vary based on location, experience, employer, and other variables.
If you genuinely enjoy helping other people overcome challenges and you're passionate about music, then a career as a music therapist is the perfect career move for you.
Quick Facts About Music Therapist Careers
Job Title: Music Therapists
Office: Health Care Based
Description: Help patients overcome disabilities through the power of music
Certifications/Education: Music Therapy Degree and Board Certification
Necessary Skills: Musical background, Patience, Desire to help others
Potential Employers: Hospitals, Rehabilitation Centers, Retirement Homes, Mental Health Centers
Pay: $24,000 to $56,000 per year
Helpful Music Therapist Employment Links: